Hyderabad: Ideally, a rainwater harvesting pit should be below the level of water channel flowing past it. However, the harvesting pits next to West-Marredpally masjid stands out in this regard. These pits constructed by Hyderabad Metropolitan Water Supply and Sewerage Board (HMWSSB) are ironically higher than the water channel flowing past it.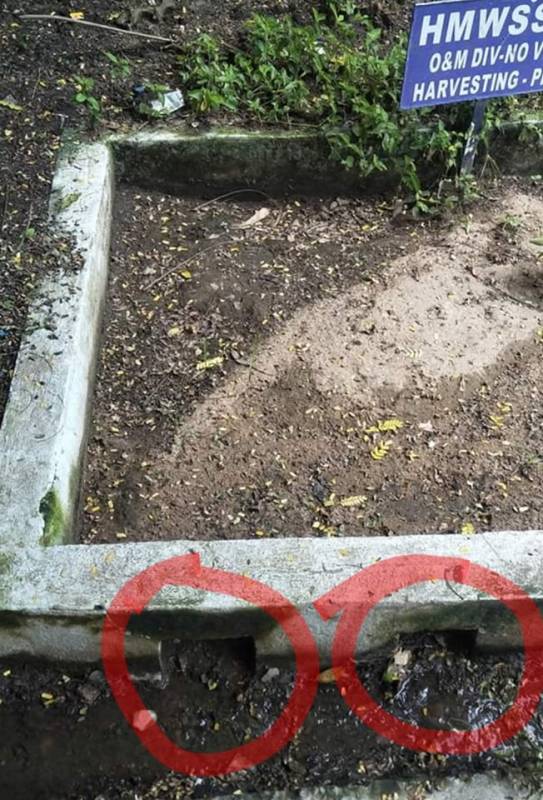 Rainwater harvesting pits are constructed at the lowest point of the land, known as ground zero. When it rains, water on the earth forms into small channels and flows down into this spot. The rainwater then slowly steeps in and charges the groundwater. However, even after the heavy rains in Hyderabad, the rainwater harvesting pits in West-Marredpally barely received any water. Even the ports at the base of the pit walls are higher than the water channel. This stops the rainwater from not entering the pit even during heavy rains.
Residents of West-Marredpally had taken it to Facebook criticising the HMWSSB for its unscientific construction of harvesting pits. Ghanshyam Pamnani, a resident who posted the images of harvesting pits on Facebook, said, "The pit is higher than the flowing channel. They made two inlets, but since the ground is higher in the pits than the channels, it is not entering the former."
Meanwhile, rainwater harvesting experts in the city opined the adaption of advanced harvesting methods such as direct storage and injection wells by the Municipal Corporation rather than the age-old pits.
PN Rao, a roof rainwater harvesting specialist, said, "Harvesting pits require regular cleaning. If you look at the image of Marredpally pits, poor maintenance is the cause of the problem. Mud level inside the boundary of the pit blocks the water from entering. Its entry is clogged. Some improvements are needed for channelising the water flow."
Sai Prasad, a city-based architect, opined, "I wouldn't suggest harvesting pits in Hyderabad's geology. Pits need to satisfy conditions like soil type, space availability, and absorption capacity. The ideal harvesting solutions for Hyderabad scenario are injection wells, direct storage and reuse of rainwater. Large-Scale implementation of these methods requires a huge budget. That might be why HMWSSB does not work on such methods."
Prasad added that plugging harvesting pits in an urban scenario is a challenging task. "With increasing space crunch in Hyderabad city, you can preferably have an injection well for the community of 100-200 houses. And for independent houses, you can go for direct storage and reuse."
Also Read: https://newsmeter.in/monsoons-to-withdraw-but-rains-in-telangana-and-andhra-to-continue/