Visakhapatnam: The Revenue department proved to be the most corrupt department in Andhra Pradesh as per statistics provided by the Anti-Corruption Bureau (ACB). The Bureau registered 96 trap cases in the state during 2019, involving a bribe amount of Rs 85.37 lakh. Of them, 36 were against Revenue Department employees. The Bureau report said that they achieved 39 per cent convictions for the cases during the year.
Some of the critical trap cases of the last year include officials Deputy Registrar and Divisional Co-Op Officer of Visakhapatnam Boina Mosha; Gudur Tahsildar of Kurnool Haseena Bee; Revenue Inspector of Parvathipuram Municipality of Vizianagaram Patireddi Sankara; and Assistant Engineer of Nandyal Sub-Division in Kurnool G Rajasekhar.
During 2019, ACB registered 23 disproportionate assets cases resulting in the detection of a large number of illegal assets. Some of the critical disproportionate assets cases include MVI of Kurnool Akkiraju Siva Prasad; RI Kondasani Suresh Reddy; Estate Officer with Tourism Department Rachuri Siva Rao; Senior Assistant with Nagarjuna University Javvaji Srinivasa Rao; Special Deputy Collector Mannam Laxmi Narasimham; and Superintendent Engineer Nallam Krishna Rao.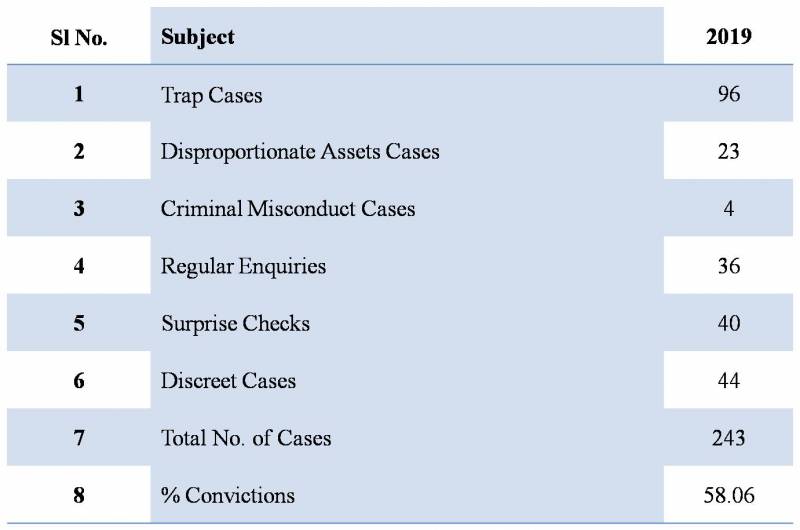 Anti-Corruption Bureau sleuths had conducted 40 surprise checks during 2019, seizing unaccounted money and finding irregularities in discharging official duties in various government Offices. Out of these surprise checks, they performed 14 of them on sub-registrar offices, seizing amounts ranging from Rs 40,000 to Rs 341,000. The sleuths also checked the hostels of BC Welfare Department and Social Welfare Department nine times each, while carrying out six surprise checks in the transport department.
During 2019, the AP government launched a toll-free number for lodging complaints against public servants. The government also entered into MoU with IIM Ahmedabad to study various causes of corruption in government departments. It would submit a report on systematic reforms needed to weed out avenues of corruption.
The Bureau suggested establishing a prevention division in ACB to examine systems, practices, and procedures of various government departments and public bodies, identify loopholes, and make recommendations for reducing the potential for graft.
ACB also organised various awareness programmes in 2019. They conducted debates, quiz, essay writing and elocution, involving students all over Andhra Pradesh. They also tied banners and distributed pamphlets for creating awareness.