Hyderabad: Death by road accident decreased by 51.1 per cent during the lockdown period, from March 24 to May 31, as compared to the last year, according to the data provided by Railways & Road Safety, Telangana Police.
During the lockdown, 717 casualties occurred while in 2019, 1,468 people died in road accidents during the same period. A highest number of 463 deaths were recorded in May when there was ease in lockdown while in April, only 156 casualties took place. In March, only for 8 days, there was complete lockdown and the casualty recorded during this period was 98. During the same period in 2019, 160 casualties occurred in March, 634 in April and 674 casualties were recorded in May.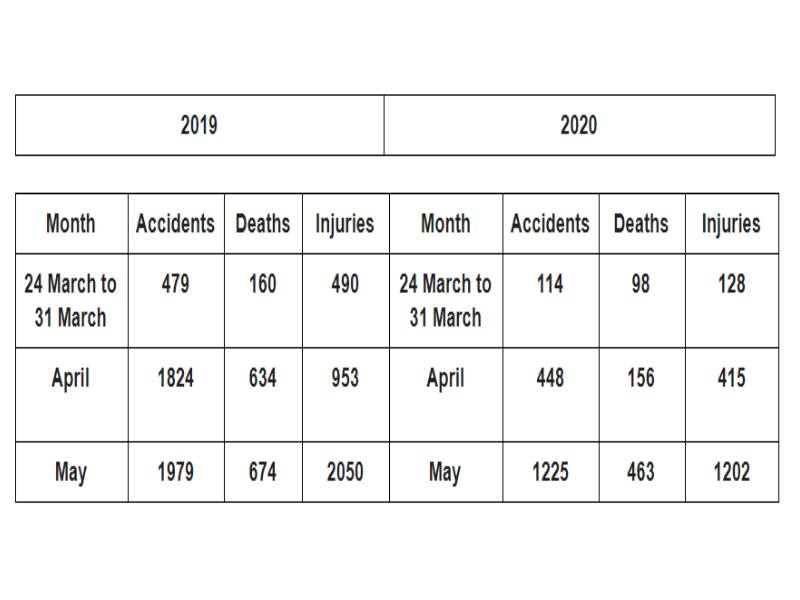 On March 24, the Government of India announced nationwide lockdown for 21 days. After the recommendation from the state government and other advisory committees, the government extended the lockdown for 14 days. This lockdown was extended in phases till May 31. During the lockdown, the movement of vehicles was restricted. Vehicles were allowed only for essentials and after permission from the authority.
Educational institutions, shopping malls and cinema halls were closed during this period and most of the companies asked their employees to work from home which led to less movement of the general public.
During the lockdown period, 1,787 accidents were reported in Telangana, which means they decreased by 47.5 per cent as compared to last year when 3,282 accidents took place. A highest number of road accidents, 1,225 were recorded in May. In April, there were 448 accidents while during the 8 days of lockdown, the number of accidents recorded was 114.
After the lockdown, liquor shops opened on May 6. According to the police department, consumption of alcohol is the primary cause of accidents. The data shows that after the opening of shops, there was a rise in the number of accidents.