Hyderabad: The Government of Telangana has spent Rs 9,700 crore to build 98,000 double bed-room houses. The DBR-house project was allocated the highest funds in the GHMC funds followed by Rs 8,410 crore towards Strategic Road development plan (SRDP) and Rs 5,043. 26 for Greater Hyderabad roads, including land acquisition, said minister for IT and MAUD K.T. Rama Rao.
A comprehensive data on total capital expenditure, from 2014 till date, was placed on table by the minister in the on-going monsoon session of the Telangana Assembly on Wednesday.
According to the records, since the new state was carved out, the government allocated Rs 67,035. 16 crore to various departments. Of the total, a large share of Rs 32,532.87 crore went to GHMC, the highest any department received, followed by Rs 17,290. 31 crore towards Hyderabad Metro Rail and Rs 9,764 to water and sewerage department.
The GHMC, out of the Rs 32,532 crore funds received, spent Rs 1,839 crore on the road maintenance project (CRMP).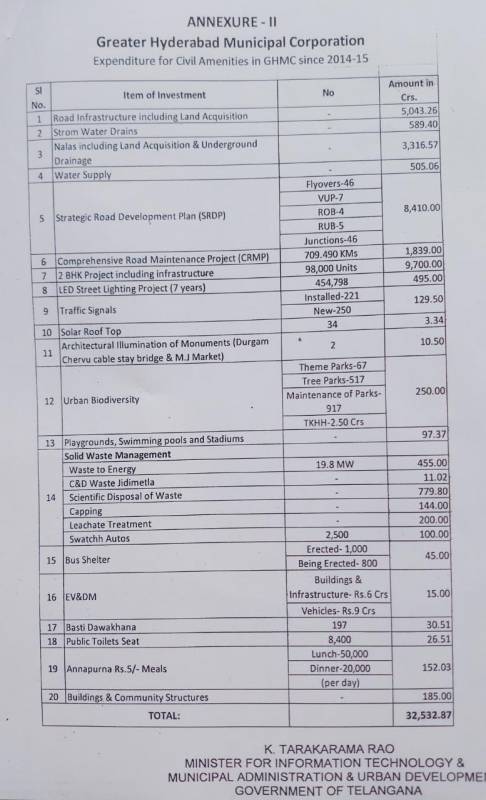 It is pertinent to mention that the government spent less on
cash-strapped state road transport authority, which is one of the major transport facilities. In a span of 6 years, Rs 156.59 was allocated to the TSRTC.
"Considering growing importance of Hyderabad and its crucial role in the state's economy, the government has initiated a number of schemes and capital projects for upkeep of existing infrastructure and creating new infrastructure. A total of Rs 67,035.16 crore capital expenditure has been incurred on various infrastructure projects in Hyderabad," said the minister.
Some of the multi-crore projects taken up by the GHMC include Durgam Cheruvu cable bridge, strategic road development plan (an investment of Rs 24,000 crore was made on 7 skyways in a stretch of 137 km and 11 major corridors in 166-km stretch).
Total capital expenditure on GHMC and other departments
(2014-15 till date)
1. TSSPDCL – Rs 2,374.36 Crore
2. Metro Rail – Rs 17,290.31 Crore
3.TSRTC – Rs 156.59 Crore
4.Tourism- Rs 156.59 Crore
5.HMWSSB- Rs 9,764. 27 Cr
6.HMDA-1,067 Cr
7.TSIIC- Rs 2,006 Cr
8.Urban forest - Rs 309. 48 Cr
9.GHMC - Rs 32, 532. 87 Cr
10.Marketing - Rs 106. 29 Cr
11.R&B Department - Rs 807.07 Crore
12. Heritage – Rs 100 Crore
13. Lakes Rejuvenation: Rs 376.8 Cr
14. Notified Area committee, RGI Airport - Rs 108. 29 crore
Total: Rs 67,035. 16 crore spent