Visakhapatnam: The Diesel Loco Shed (DLS), Waltair division, has developed a robot to assist hospital staff in serving COVID-19 patients. The MeD Robot can assist the management of medical wards in serving medicines and food to patients and assist in patient care.
The robot underwent extensive trials and demonstrations before it was deployed for use in the Divisional Railway Hospital.
The use of the robot will reduce the chances of doctors, nurses, and other medical staff contracting the virus. The MeD Robo can be operated through a mobile app. It supports sensor-based features which can read a patient's body temperature and transmit the same to a mobile phone. In case of any abnormal high-temperature reading, the robot will raise an alarm and alert the hospital staff attending to the patients.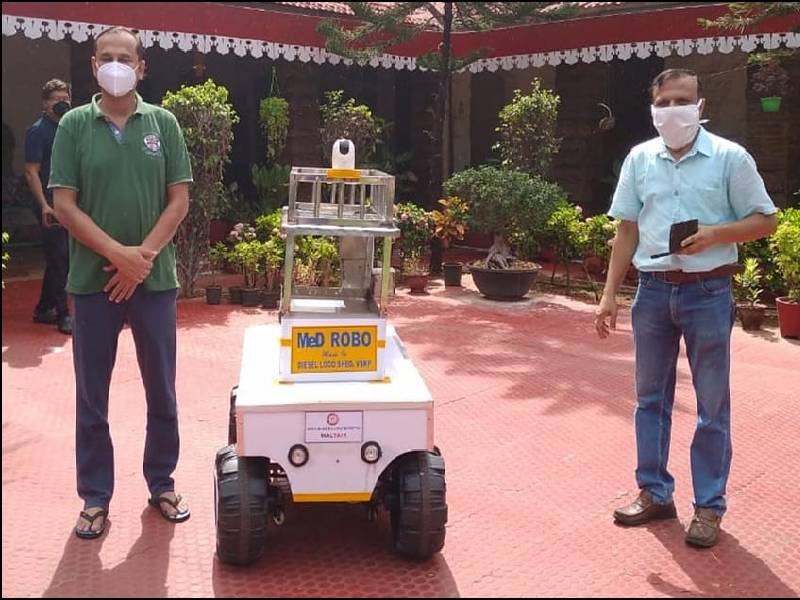 Some of the features of the MeD Robo include remote control drive unit that allows it to move in all directions and which can be monitored physically or from a mobile or desktop; sensor-based hand sanitizer unit; a device for communication between patient and doctor/nursing staff which can be monitored from any mobile or desktop; and two stainless steel trays for medicine and food.
The robot was developed at the Diesel Loco Shed in Visakhapatnam under the guidance of Chetan Kumar Shrivastava, the divisional Railway manager of Waltair, and under the direct supervision of Santosh Kumar Patro, the senior divisional mechanical engineer (Diesel). After inspection, Mr. Chetan Kumar handed over the robot to the Divisional Railway Hospital in Visakhapatnam.