Hyderabad: The Royal Aeronautical Society (RAeS) London — the oldest aeronautical society in the world — has conferred an honorary fellowship in 2019 to Dr G Satheesh Reddy. The latter is secretary, Department of Defence Research and Development, and the Chairman of DRDO. This also makes him the first Indian recipient in over 100 years. He received the fellowship during the medals and awards presentation ceremony in London, UK, on Monday.
The award has been bestowed in recognition of Reddy's pioneering technological contributions over the past three decades. His efforts have enabled the country to realise frontline military systems and superior missile technologies.
An honorary fellowship from RAeS is considered as one of the world's highest distinctions for aerospace achievement. It is awarded for only the most exceptional contributions in the field of aerospace, and it is equivalent to the Nobel Prize.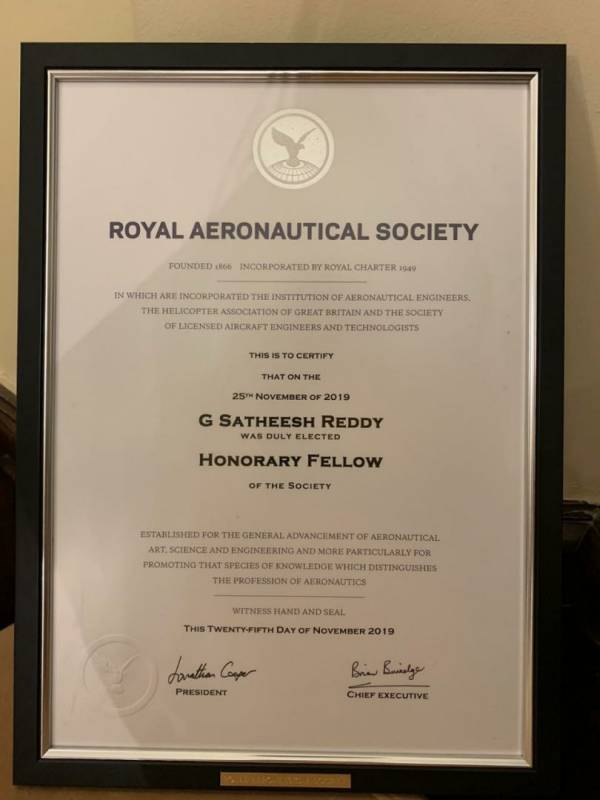 The first honorary fellowship was awarded in 1917. Eminent people across the world who have been conferred this award include Orville Wright, Dr Theodore Von Karman, Igor I Sikorsky, Dr Charles S Draper, Andrey N Tupolev, and Dr Henri Coanda.
Satheesh Reddy has made outstanding contributions to defence research and development and is renowned for his pioneering contributions. He has led indigenous design, development and deployment of state-of-the-art aerospace technologies and advanced missile systems.
He is also popular among students as 'Junior Kalam' and 'Next generation Missile Man' due to his knack for advanced technologies. Satheesh is one of the eminent aerospace scientists who have contributed to the formation of many national R&D policies for active development and efficient manufacturing within the country.
He spearheaded mission Shakti — the country's first anti-satellite missile test (ASAT) and bolstered the Ballistic Missile Defence (BMD) programme, successfully demonstrating missile interception capabilities at high altitudes. Satheesh has led the development of advanced avionics and achieved a streak of successful missions of long-range Agni-5 strategic missile.
He has received numerous awards including AIAA Missile Systems award, National Aeronautical prize, and IEI-IEEE (USA) award for engineering excellence.