Hyderabad : Cyberabad traffic police fined commuters Rs 2.11 lakh for traffic violations on Durgam Cheruvu cable-stay bridge since its inaugural. The land-mark bridge was thrown open for public on 25th of September but its seems to have become a hub for traffic violations despite instructions by the city traffic police.
Violators were fined for halting on the main carriage way, helmet-less riding, triple riding, cell phone driving, disobedience of orders, dangerous driving, unauthorised parking on the cable bridge.
Another in sensible activity on #DurgamCheruvuCableBridge Don't stop vehicles on carriage way & obstruct traffic @cyberabadpolice Patrolling vehicle reached & cleared@KTRTRS @cpcybd @CYBTRAFFIC @HiHyderabad @serish @HiHyderabad @CoreenaSuares2 @ZC_SLP @harish2you @PranitaRavi pic.twitter.com/XUlz3a6fQ8

— SAITEZAA (@ActivistTeja) October 2, 2020
[amp-tweet tweetid="https://twitter.com/ActivistTeja/status/1312084580825026560"]
Traffic police fined 459 violators for halting on the carriage way and imposed a total fine of Rs 1,07,865, 102 cases against violators without rear view mirrors on their vehicles and imposed a total fine of Rs 13,770. As many as 90 cases were fined for the pillion riders not wearing helmet and a fine of Rs 12,150 was imposed on these violators.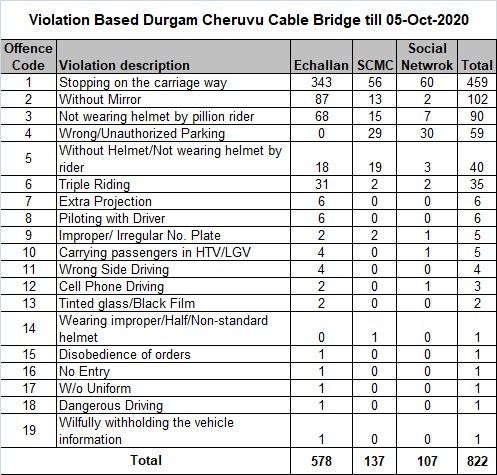 Over 59 challans were issued against violators for wrong/ unauthorised parking and a fine amount of Rs 13,865 was imposed while 40 challans were issued against those not wearing helmets and a fine amount if Rs 5,400 was collected from them.
A total fine amount of Rs 2,11,020 was imposed in connection with 822 challans booked by the Cyberabad traffic police. Of the 822 challans, 578 were booked through e-Challan, 107 were booked through social media complaints and 137 by the Surveillance Camera Monitoring Centre (SCMC).
Soon after the bridge was inaugurated, many visitors were caught on CCTV cameras risking their own live for photographs and selfies. Even when the Cyberabad traffic police warned them not to do such stunts, several youth took photographs to share them on social media platforms.
దుర్గం చెరువు కేబుల్ బ్రిడ్జి పై రోడ్డు దాటడం నిషేధం. ఒకవేళ రోడ్డు దాటాలి అంటే బ్రిడ్జి మొదలు మరియు చివరలో ఉన్న పాదచారుల మార్గాలను ఉపయోగించి దాటండి. pic.twitter.com/nnzaj8hBt0

— CYBERABAD TRAFFIC POLICE సైబరాబాద్ ట్రాఫిక్ పోలీస్ (@CYBTRAFFIC) October 2, 2020
[amp-tweet tweetid="
దుర్గం చెరువు కేబుల్ బ్రిడ్జి పై రోడ్డు దాటడం నిషేధం. ఒకవేళ రోడ్డు దాటాలి అంటే బ్రిడ్జి మొదలు మరియు చివరలో ఉన్న పాదచారుల మార్గాలను ఉపయోగించి దాటండి. pic.twitter.com/nnzaj8hBt0

— CYBERABAD TRAFFIC POLICE సైబరాబాద్ ట్రాఫిక్ పోలీస్ (@CYBTRAFFIC) October 2, 2020
"]
Cyberabad DCP (traffic) Vijay Kumar told Newsmeter, "Public need to understand that the bridge is basically for better connectivity to ease traffic flow between Jubilee Hills and Hitech City. They should not stop on the road for selfies, cut cakes or have some celebrations. They have to be responsible and follow traffic rules. A lot of people have understood that they are under close watch of traffic police and action would be taken against them. We are still observing and we will trace repeated violators and take strict action them."