Hyderabad: The indefinite bus strike by Telangana State Road Transport Corporation (TSRTC) employees which began yesterday midnight has forced people to seek alternate modes of transport today. Heavy rush was experienced at major metro and railway stations. Metros now witness double its usual number of passengers. As a result, Hyderabad Metro has announced for an extra 100 trips to manage the sudden rush.  As opposed to the usual number of 50,000 on a normal Saturday, today there are 50,000 more people utilizing it.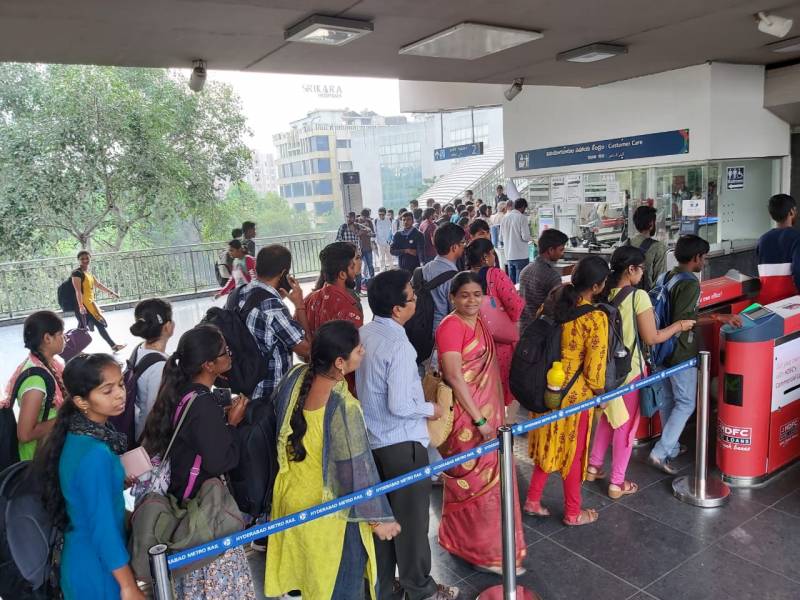 The RTC bus strike has become a sudden blow to those who are planning to leave the city for the Dasara holidays. Several protesting workers of RTC were detained across the state.
Most of the bus depots were found to be deserted while few buses were plying in the city with policemen deployed for security. Nizamabad police had directed auto drivers not to hike charges during RTC strike, while SHO Afzalgunj had arranged for share autos to ensure commuters reach their destinations.
Today BC-2 Afzalgunj arranging share auto for hassle free traveling to commuters due to ongoing RTC bus Strike pic.twitter.com/fFie84oPxS

— SHO AFZALGUNJ (@shoafzalgunj) October 5, 2019
Krishank Manne, a research scholar from Osmania University commented, "The RTC is taking advantage knowing that people will need public transport especially during the Dasara season. When the talks were going on, using the festival as a weapon for negotiations isn't right. After a week or so, it would have been fine, but now the common people are affected. RTC itself could get a lot of revenue if they had functioned now, but now private people will gain from this."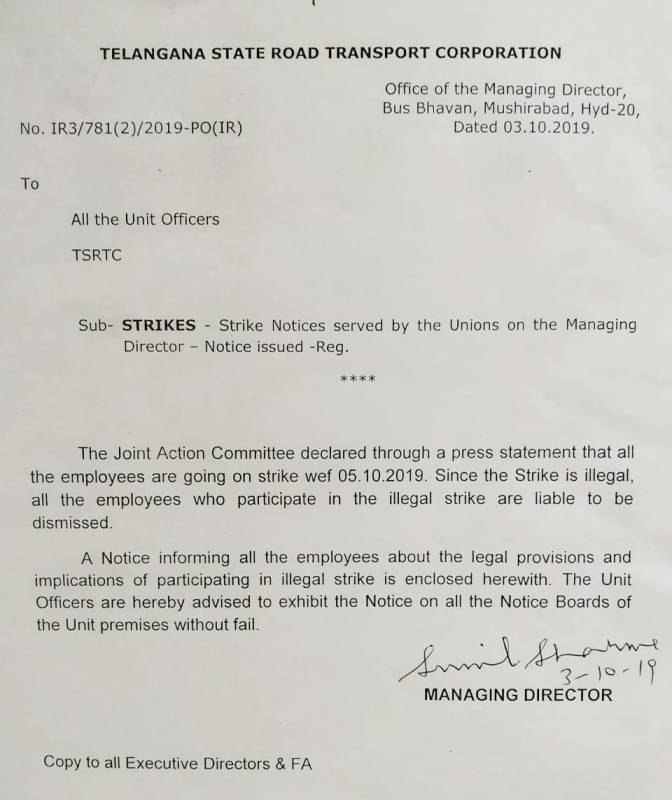 Private services like autos and taxis are seen to be plying more on the roads.
Meanwhile, the government had issued a fresh warning asking RTC employees to withdraw the protest and rejoin duty. In a press release given by Chief Minister's office, it said, "Workers of RTC who are on strike, if fail to report to duty before 6 PM on Saturday shall cease to be employees of RTC." It also announced that a high-level review meeting will be held on RTC strike on Sunday.
 In order to cope with the situation, the government is planning on hiring 3000-4000 private buses and provide young men and women who posses driving licence the opportunity to drive RTC buses. Route permits will also given to 6000-7000 private buses. Hyderabad police has also ensured to check on private buses that may charge extra owing to the current situation.
Fakes news about accident caused by govt-hired temporary driver
A news about an accident caused by a government-hired temporary driver during the RTC strike has been doing the rounds on WhatsApp.  It was later found out that the news was fake, and the images that were circulated belonged to an accident that happened on 28th September.
The below pictures which are in circulation since this morning are not of an accident which took place this morning. This accident occurred on September 28 and was also reported in Newspapers.
Therefore kindly do not link it to RTC Strike . It's a Fake News @KTRTRS pic.twitter.com/n0f6pnqDOf

— krishanKTRS (@krishank9) October 5, 2019