Satellite images reveal increased water levels and flood-like situation at Warangal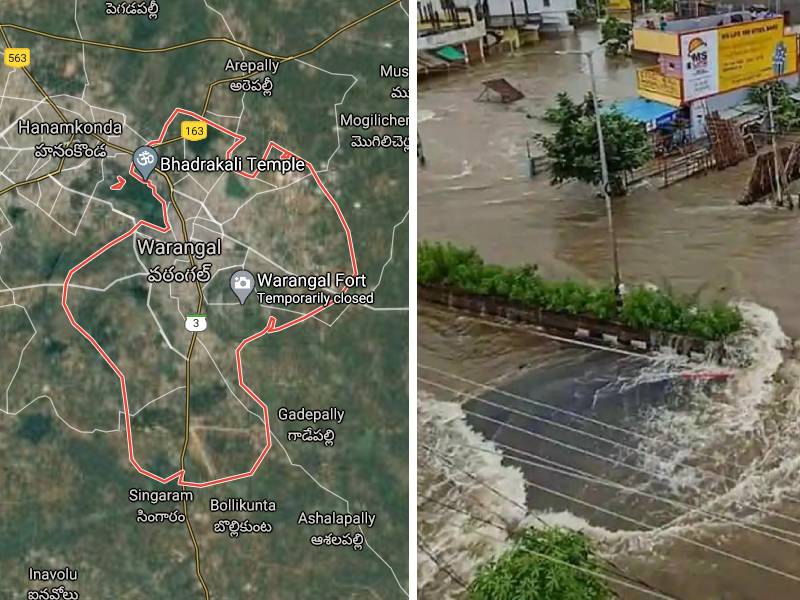 Warangal: What began as a moderate rainfall on August 13, soon peaked into a flood-like situation at Warangal. The district received over 500 percent of excess rainfall in the last few days.
According to the Hyderabad Meteorological Department, Warangal (Rural) received 542 mm rainfall, while Warangal (Urban) received 511 mm rainfall from August 13 to 19. Normally during this period, Warangal (R) receives 69 mm rainfall, and Warangal (U) receives 40.3 mm rainfall.
Satellite imagery from August 17 show an increased waterlogging in Warangal.
Copernicus-Sentinel 2 imagery for August 17 shows increased water levels in Warangal / Via Pradeep Macharla
In the imagery extracted through Copernicus-Sentinel 2 satellite, increased water levels can be seen in the areas of Chinthalapalli, Kapulakanaparthy, Ammavaripeta, Kondaparthy, and Bhatupalli, including others.
The excessive rainfall resulted in an overflowing of water bodies and drainage pipelines, creating a flood-like situation. On August 16, a rainfall of 99.2 mm was recorded in Warangal Rural and 93.7 mm in Warangal Urban, which is 60 percent more than the normal rainfall.
From August 13 to 17, Warangal (U) saw a rainfall more than 1170 percent.
SAR imagery for August 5, a week before downpour began / Via Pradeep Macharla
After four days of continuous downpour in Warangal, the Disaster Response Force of GHMC deployed teams, consisting of 40 personnel, to take up relief measures and rehabilitate the flood victims. Telangana ministers K.T Rama Rao and Eatela Rajender visited Warangal, which was hit by heavy rains and floods, and inspected the affected areas on 18 August.
Based on the CM's instructions, 20 relief camps were set up in Warangal and 4,500 people from the low-lying areas were shifted to these camps. Disaster Response Force was deputed from Hyderabad to Warangal with boats and other rescue equipment, and was able to save 120 stranded people.
"Warangal's population has reached 11 lakh now. The population may increase further in the future and employees and staff should be increased based on the growth of the population. Mechanization of sanitary works is necessary. Use sweeping machines in the city," KTR said on his visit.
Last week, Telangana saw a total of 210 mm rainfall (cumulative), which is close to 300 percent more than the average rainfall received during this period.
SAR imagery by: Pradeep Macharla