Hyderabad: Satellite images reveal that Nallamala forest was on fire even in January. According to the satellite data, there was a fire incident in Nallamala between January 25 and January 27. The images say that the fire was spread across 1,200 acres of the forest land. However, the incident was not reported locally. Even the district forest officers are unaware of the incident. This fire incident is apart from the two fire occurrences that happened in February.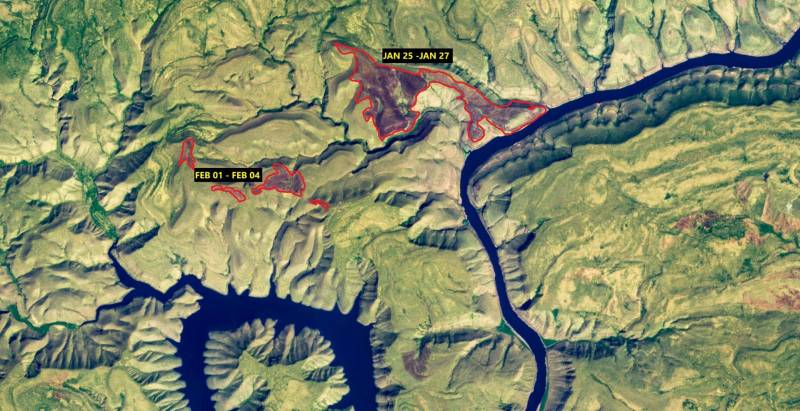 When enquired regarding the fire, District Forest officer M. Joji told NewsMeter, "There were minor incidents of fire even in January month. We have done quite a few controlled burns last month. However, there were no major instances of fire."
The officer further said the data provided by the satellite needs to be studied by the department for any further clarification on the incident. The fire is expected to have occurred at remote location and is highly inaccessible by road. This is expected to be one of the reasons why they were not reported.
In February, two major fire incidents broke out in the Nallamala forest between Vatavalipally to Domalapenta, within four days. Here are satellite images showing the intensity of the forest fire. The first fire incident occurred on Friday, February 1 in the evening. The fire reduced 15 acres of the forest land to ashes. The forest officials took 6 hours to bring the fire under control. The most affected area is between Vatavalipally to Domalapenta.
Satellite Images showing the extent of burn't area due to a recent #forestfire in #Nallamala near Srisailam.

Total Burn't Area: ~4.5 Sq Kms (1200 Acres)
Location: https://t.co/nedjNJgQKV

Pic1: Burn't Area Extent(Infrared Image)
Pic2: NASA/Copernicus Fire Data pic.twitter.com/nHeM8hwe5B

— Pradeep Goud Macharla 🌍 (@Macharlazz) February 2, 2020
However, marking the second incident in four days, another severe fire broke out in Nallamala forest on Tuesday, February 4 in the evening. This time over 64 acres of forest area was burned to ashes. The cause of the fire is still unknown. However, the forest official ascertained that it would have been 'man-made'.
Speaking to NewsMeter on the second fire incident M. Joji said, "It took 6 hours to bring the fire under control,with the most affected area being between Vatavalipally to Domalapenta. Tourists could have caused the fire."
When asked about damage to wildlife, the officer said, "The green cover has been affected, but no wildlife damage has been reported. Timely intervention by the forest department and the locals brought the fire under control."
The last reported damage in the Nallamala forest caused due to fire was in the year 2015. Two fire incidents were reported in the consecutive months of February and March. Nallamala is prone to forest fires during the season because the grass is dry at this time of the year.
(Satellite data credits: Pradeep Goud Macharla, Copernicus EU and Copernicus EMS)