Satellite images show Kolkata, Bangladesh without electricity 72 hours after Amphan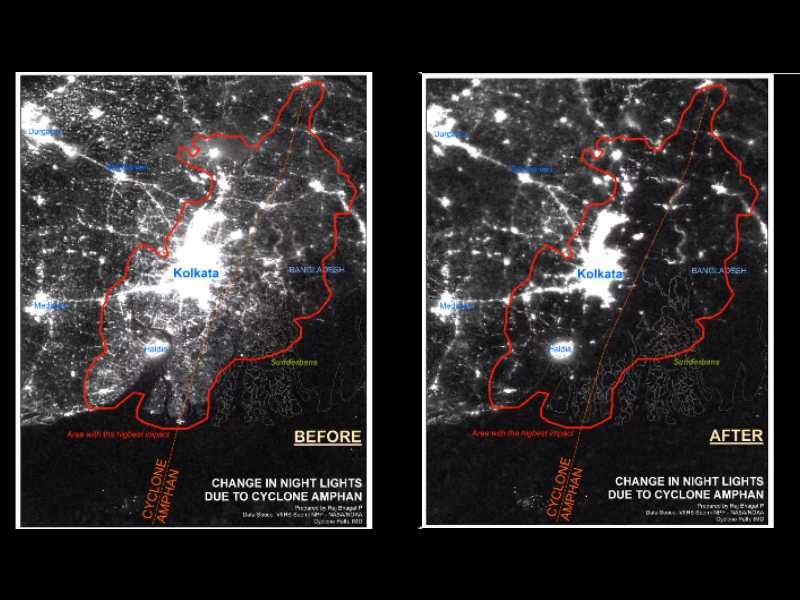 Hyderabad: Satellite images captured at 1 a.m on 24 May showed that major parts of Kolkata and Bangladesh were without electricity 72 hours after cyclone Amphan shook the region. Areas with the highest impact are marked in red.
Residents in localities like Behala, Jadavpur, and Bagha Jatin of Kolkata reportedly staged protests demanding the restoration of power supply. According to a communication from the Eastern Command, Army personnel has been deployed in Ballygunje, Southern Avenue near lake, Salt Lake, Parnashree, and Behala. They are mainly engaged in cutting down trees and clearing the roads so that electricity can be restored.
According to the Kolkata Municipal Corporation (KMC), over 5,000 trees were uprooted across the city and hundreds of lamposts were damaged by the cyclone. Trees blocked roads in areas like Maidan, Lake Gardens, Gariahat, Golf Green, Salt Lake, and Southern Avenue.
The Calcutta Electric Supply Corporation (CESC) has been restoring power in several areas from 24 May. In a series of tweets, the home department said the CESC has restored power supply in Laskarhat (EM Bypass), Patipukur, Belgachia, Maniktala Main Road, Lords More, Haripada Dutta lane (off Prince Anwar Shar Road), Baktiyar Shah Road (off Prince Anwar Shah Road), Bongaon, Naihati, Halishahar Barrackpore towns in North 24 Parganas, and several other areas.
The department is constantly updating power restoration details on its Twitter page.
Meanwhile, in Bangladesh, too, the cyclone tore down power lines leading to a power outage. The Bangladesh state minister for disaster management and relief, Enamur Rahman, said the country has incurred a loss of $129 million due to cyclone Amphan.
According to bdnews24.com, "More than one million consumers in at least 17 associations of the Rural Electrification Board have lost electricity." Operations are underway to restore electricity in most parts of the country.
Around 85 deaths have been reported in West Bengal, while Bangladesh, so far, has reported 26 deaths due to Amphan.