Hyderabad: A satellite data collection of Sentinel5-P TROPOMI show how India suffered Nitrogen Dioxide (NO2) concentration for 2019. Greenpeace has already identified three NO2 hotspots in the country — Delhi-NCR, the area that falls in both Sonbhadra in UP and Singrauli in MP, and Talcher-Angul in Odisha. Apart from them, metro cities such as Bengaluru, Kolkata, Chennai and Hyderabad are also battling an alarming rise in pollution level.
NO2 is a pollutant gas that contributes to the formation of two of the most dangerous air pollutions that are PM 2.5 and ozone. Hence, breathing air, which contains a high concentration of NO2, can irritate the human respiratory system. According to experts, even a short period of exposure to NO2 can aggravate respiratory diseases such as asthma and lead to coughing, wheezing or difficulty in breathing. Meanwhile, more prolonged exposure can contribute to the development of asthma and potentially increase susceptibility to respiratory infections.
Experts added that in terms of pollution due to NO2, 2019 is peculiar in comparison to previous years, due to its fluctuations in climate and weather.
This is how #India suffered with NO2 concentration for 2019(Animation shows point source & dispersion).

Data Set: Google Earth Engine

Sentinel5-P TROPOMI collection,one of the latest instruments in the joint European Commission and European Space Agency(ESA) Copernicus program pic.twitter.com/Y0KPRdrDBW

— Pradeep Goud Macharla 🌍 (@Macharlazz) December 31, 2019
Dr WG Prasanna Kumar, Chairman MGNCRE and a pollution expert told NewsMeter that NO2 hotspots indicate a high density of vehicles. "Meteorology of the location is another contributing factor for the high presence of NO2. When there is no air movement, the concentration of any vehicular emission will continue to stay in the atmosphere because there is no dispersion of air," he said.
In 2019, the temperature levels came down very drastically, and there was a torrential downpour during monsoon. "Because of this long monsoon, there was a huge concentration of humidity pre and post-rain. This humidity also led to the concentration of vehicle emission. Low temperature would also lead to no dispersion of air," Prasanna Kumar added.
Commenting on Hyderabad emerging as a hotspot of NO2, Dr Kumar said, "Hyderabad has two high-density corridor — LB Nagar-Miyapur and Nagole-Hitec City. In spite of metro train functioning in these two corridors, vehic
ular traffic has not come down. The number of compartments in a metro train is few; frequency of metro, speed of metro, and connectivity of road line to metro stations are not laid out well. Once these issues are resolved, you can expect a reduction in vehicular emission and thereby a reduction NO2 levels in Hyderabad."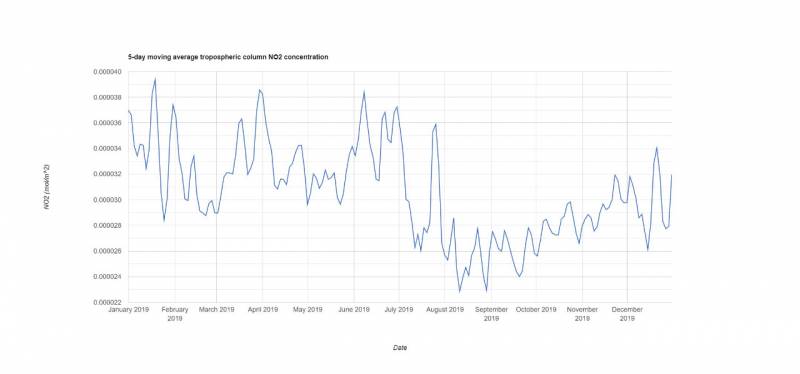 While high vehicular populations and oil consumption are contributing factors for high NO2 levels in metro cities, coal and industrial clusters equally pollute other towns such as Chandrapur, Durgapur, Mundra and Talcher.
Highlighting India's air pollution crisis, Greenpeace had released an Air Pollution Global Cities Ranking Report in 2019. According to it, 15 of the 20 most polluted cities in the world are located in India. The report had further found 241 Indian cities violating National Ambient Air Quality Standards (NAAQS).
Across the world, around 50 NO2 hotspots have been identified. Out of this, ten are in China, eight in UAE, four in the Europe and three each in India, the USA and the Democratic Republic of Congo.
Dr Kumar added, "PM2.5, NO2 and O3 (Ozone) have been identified to have a significant impact on human health. They can cause respiratory illness and lung damage. Long-term exposure to these pollutants can increase the risk of chronic diseases such as heart attacks and lung cancer."
Satellite date sources: Google LLC, Sentinel5-P TROPOMI collection, Data set: Google Earth Engine, Pradeep Goud Macharla