Kochi: One of India's most extensive demolition drives involving residential complexes was witnessed in Kochi district of Kerala on January 11 and January 12. After a decade- long legal battle for violating environmental norms, four high rise apartment complexes in Kochi's Maradu Municipality were crashed to rust within seconds. On May 8, 2019, the Supreme court had ordered the demolition of five high risers built too close to the Vembanad lake for violating the Coastal Regulation Zone (CRZ) rules. Satellite image from the year 2006 and 2019 shows Maradu before and after the three among the four illegal waterfront structures- Holy Faith H2O, Alpha twin towers and Jains Coral Covers were established.
The buildings were brought down using controlled implosion method. Jain Coral Covers, the largest of Kochi's illegal buildings, was axed today, January 12 using 372.8 kilogram of explosives. The building had 17 floors and 128 apartments. Satellite images reveal how backwaters from three sides surrounded the apartments in Maradu. Similarly, 19-floor high H2O Holy Faith complex of 90 flats and Alfa Serene complex with 73 flats were facing the Vembanad lake.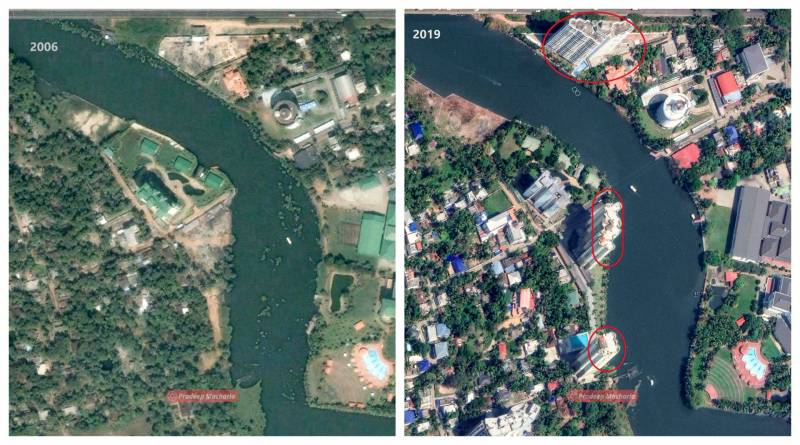 Vembanadu Lake is nationally and internationally an ecologically sensitive area.
The four apartments completed their construction during 2007 after securing an interim stay from the Kerala High Court. The stay was for a government order to quash the permission for construction.
212.4 kg of explosives were used for Holy Faith, and 343 kg of explosives were used for Alfa Serene. Thousands gathered at Maradu to witness the moment which Kerala has never seen before.
Day2 of #MaraduFlatsDemolition

2019 & 2006 Satellite imagery showing #JainCoralCove
apartment complex which was demolished few minutes ago for violation of Coastal Regulation Zone(CRZIII).#MaraduBuildingsDemolition #MaraduFlats pic.twitter.com/54mQW9kkCD

— Pradeep Goud Macharla 🌍 (@Macharlazz) January 12, 2020
While the residents from neighbouring colonies complained that there was no adequate instructions and guidelines given to them, experts opine that the impact of the explosion on air quality was limited. The particulate matter (PM) content in the atmosphere increased only to 1.73 times after the explosion. People from neighbouring residential areas were asked to close their houses and move out for 24 hours.
Meanwhile, the owners of H2O building have decided to take control of the building. The demolished apartment's owners will pressurise the government to remove the debris. They claim that the compensation was given for the demolished building and not the land.
Reportedly, there are minor damages in the neighbourhood houses due to this explosion. A larger impact on the ecosystem, air and the buildings surrounding due to demolition as anticipated by some experts needs to be seen in the coming days.
The fourth illegal high riser, Golden Kayaloram was also demolished by 2:30 pm, Sunday.
With this, all the four luxury flats amid backwaters were razed as ordered by the Chief Court.