Hyderabad: Funeral rituals for former bureaucrat BN Yugandhar, the father of Microsoft CEO Satya Nadella, were performed here at Mahaprasthanam, Jubilee Hills, on Sunday. Mr Satya Nadella arrived Saturday night and went to Citizen Hospital, Sherilingampalli, directly from the Shamshabad airport. The dead body of Yungadhar was taken to Mahaprasthanam from the hospital.
Hyderabad Police Commissioner Anjani Kumar monitored the security arrangements at the Mahaprasthanam. However, the Police didn't allow video coverage of funeral rituals. The police officials didn't even allow any outsiders into Mahaprasthanam. Yugandhar, 80, breathed his last here on Friday.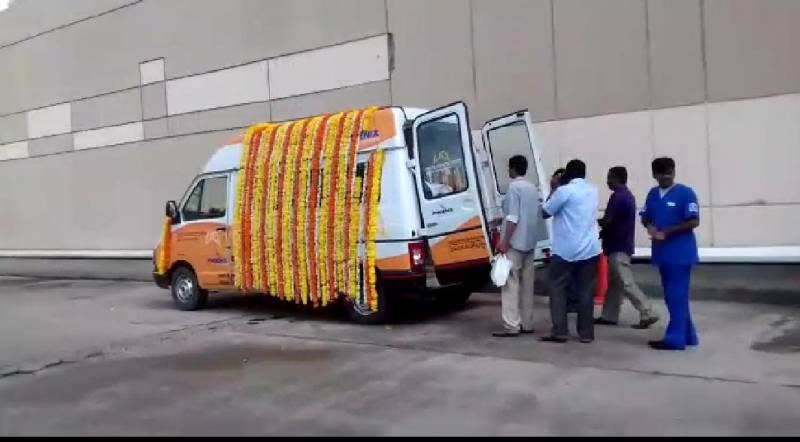 The 19620 batch IAS officer Yugandhar was known for his simplicity and helping nature to the needy and poor people. Yugandhar was part of late NT Rama Rao's team during 1983-85. He was instrumental in framing the popular Rs2 a kg rice scheme implemented by the TDP government. Yugandhar was also spcial secretary at PMO during late PV Narasimha Rao's regime. Yugandhar was a member of Planning Commission and director at Lal Bahadur Shastri National Academy.
Born at Bukkapuram in Anantapur district, Yugandhar included his home town in his name. Thus became Bukkapuram Nadella Yugandhar. Satya Nadella is the only child of Yugandhar. Telangana chief minister K Chandrashekhar Rao, AP chief minister YS Jaganmohan Reddy expressed their condolences to Satya Nadella and his family.
Telangana DGP Mahender Reddy, senior official Somesh Kumar and several retired IAS officers attended the last ritural for Yugandhar.
Vice-President of India Mr M Venkaiah Naidu said Yugandhar was upright and a committed official. Mr Naidu further added that he was saddened to hear Yugandhar's demise.
"Saddened by the demise of former bureaucrat Shri B N Yugandhar. He was an upright, committed officer. He worked for upliftment of the marginalised sections of the society & to improve life in rural India. My heartfelt condolences to his family members. May his soul rest in peace," Mr Naidu tweeted.
<blockquote class="twitter-tweet"><p lang="en" dir="ltr">Saddened by the demise of former bureaucrat Shri B N Yugandhar.<br>He was an upright, committed officer.<br>He worked for upliftment of the marginalised sections of the society &amp; to improve life in rural India. My heartfelt condolences to his family members.May his soul rest in peace <a href="https://t.co/0S0ecNBZQX">pic.twitter.com/0S0ecNBZQX</a></p>&mdash; VicePresidentOfIndia (@VPSecretariat) <a href="https://twitter.com/VPSecretariat/status/1172542113227034625?ref_src=twsrc%5Etfw">September 13, 2019</a></blockquote> <script async src="https://platform.twitter.com/widgets.js" charset="utf-8″></script>