New Delhi: 'Save me, I want to Live', were reportedly the words of the Unnao rape-victim minutes before she succumbed to burns.
The young woman sans police protection, was set ablaze while she was on her way to the Court. The victim was brought to Delhi's Safdarjung Hospital from Lucknow with 90% burn injuries.
A senior doctor from the hospital said that the woman showed great courage and told them repeatedly, not to let the accused go free. She pleaded with the doctors, "Save me, I want to live."
Unfortunately, the woman succumbed after suffering a cardiac arrest at 11:40 pm on Friday, doctors said.
In an interview to a channel, the victim's father said that her daughter received constant threats from one of the two men accused of raping her, but the police took no action. The police took into custody five men hours after the incident, including Shubham, Shivam, Harishankar, Umesh and Ram Kishore.
The Uttar Pradesh Chief Minister's assurance of the case be heard in a fast-track court comes after the death of the rape-victim.
Meanwhile, Congress leader Priyanka Gandhi Vadra on Saturday met the family of the young woman from Unnao, who lost her life after a hard-fought battle in Delhi's Safdarjung hospital on Friday after she was set on fire by the men who had allegedly raped her.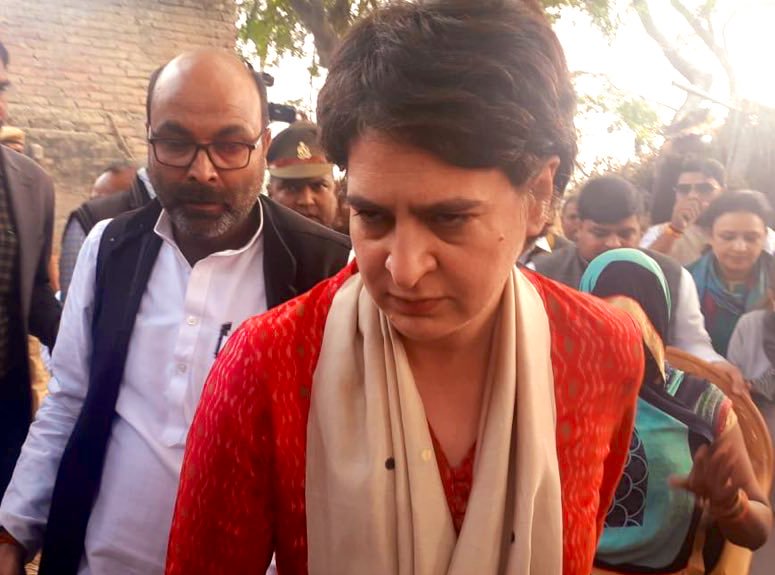 Slamming Chief Minister Aditya Yoginath, the Congress leader said, "Chief Minister is saying there is no place for criminals in the State but what he has turned it into, I think there is no place for women here."
The Congress General Secretary also questioned the role of the administration while tweeting "What action has been taken on the police official, who refused to register an FIR? What steps are being taken by the government to stop crime against women, which take place on a daily basis?"
Akhilesh Yadav on Dharna
Former Chief Minister of Uttar Pradesh, Akhilesh Yadav sat outside the State's Assembly, protesting against the increasing number of crimes against women in the State.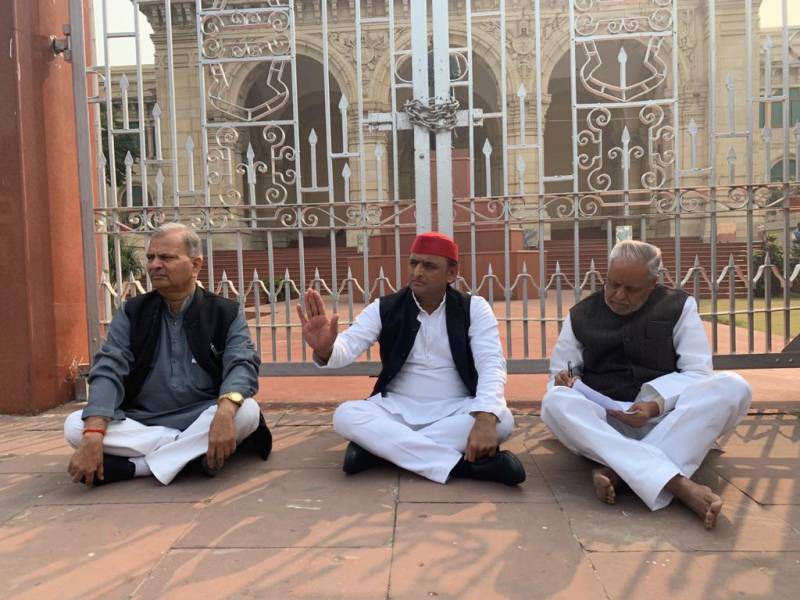 Citing the Unnao macabre, Akhilesh demanded immediate resignation of Chief Minister Aditya Yoginath over his failure to maintain law and order.
"Till chief minister, state Home Secretary and DGP don't resign, justice will not be done. We will conduct a condolence meet in all districts over the Unnao rape case," he told reporters.
Modi, Shah in mute zone
Usually very active on Twitter and also in reacting to important issues (mostly selected), there is no word from Prime Minister Modi, Union Home Minister Amit Shah till now on the rape incident.
The last tweet (when this story went online) from Amit Shah came on Jharkhand elections where he urged people to come out in large numbers to cast their votes.
झारखंड के द्वितीय चरण के सभी मतदाताओं से अपील करता हूँ कि अधिक से अधिक संख्या में मतदान कर लोकतंत्र के महापर्व में भागीदार बने। एक समृद्ध और प्रगतिशील झारखंड के लिए आपका एक-एक वोट महत्वपूर्ण है।

— Amit Shah (@AmitShah) December 7, 2019
On the other hand, Modi too is mum over the incident. Earlier, on Friday, Congress targeted the PM over his silence. His last tweet (when this story went online) was on Armed Forces Day.
Tweet of 'Desperation' from UP Police
After the encounter of rape accused in Hyderabad, BSP Chief Mayawati lauded the Hyderabad Police and added that "UP Police must learn from the Hyderabad Police."
The statement did not go down well with the UP police who, in a desperate attempt to counter and defend themselves, tweeted, "The figures speak for themselves. Jungle Raj is a thing of the past. 103 criminals killed and 1,859 injured in 5,178 police engagements in the last two years.17,745 criminals surrendered or cancelled their own bails to go to jail. Hardly State guests."
The figures speak for themselves. Jungle Raj is a thing of the past. No longer now.

103 criminals killed and 1859 injured in 5178 police engagements in the last more than 2 years.
17745 criminals surrendered or cancelled their own bails to go to jail.

Hardly state guests. https://t.co/8ed1bqltRd

— UP POLICE (@Uppolice) December 6, 2019
Interestingly, they fail to provide security to a rape-victim, who was set ablaze when she was on her way to court.