Hyderabad: Themed 'Save the Nature', the cultural festival organised by Little Flower High School 'MoLiCul Fest-2019', had an overwhelming presence of around 1,600 students drawn from 30 schools spread over five States, including Telangana State, Madhya Pradesh, Goa, Maharashtra and Andhra Pradesh.
They all vied for honours in the competitions that were held as part of the festivities.
Marking the culmination and bringing the curtains down on the four-day pulsating event was Telangana Governor Dr. Tamilisai Soundarajan.
Addressing the students, parents, members of the Organising Committee and staff of the host school, Dr. Soundarajan touched the right chords while pointing out the importance of working with diligence and being committed to whatever one aspires to achieve in their life.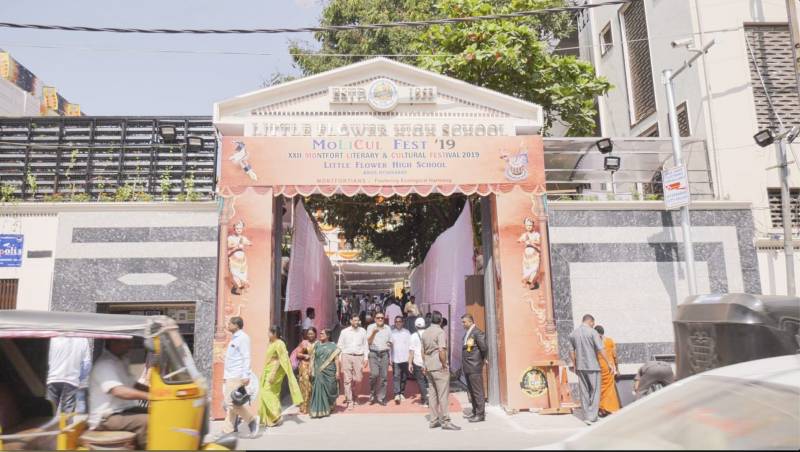 Reflecting on her career path, she was nonchalant while stating "I have reached this place, not because I am some extraordinary person, but because I am an ordinary person, who is doing her work with full commitment and in an extraordinary way."
Underscoring the importance of saving nature and striving for eco-balance, and how the students could go about on this mission, she said, "We should all understand the importance of Nature. Instead of looking at our phones, we should start enjoying nature in all its divine splendour."
Ms. Ann Omen, General Secretary of the fest said, "This year's theme was aimed at addressing the critical effects of climate change and to foster ecological harmony. The different competitions in which students participated were all nature-oriented."
Gracing the occasion were luminaries associated with Montfront Brothers of Saint Gabriel Schools, including Superior General, Manfort Brothers of St. Gabriel, Rome, Rev. Bro. John Kallarckal; Principal Supervisor of Hyderabad Province, Rev. Bro. Bala Showry; Principal Supervisor of Pune Province, Rev. Bro. Jaico Gervasis and Education Convenor of Hyderabad Province Rev. Bro. Rayappa Reddy.