Highlights
The ship sunk in 1917, 81 persons died

Chilaka Ship belongs to British India Navigation Company
Srikakulam: A scuba diving team discovered a century-old shipwreck along the Baruva coast in Srikakulam district of Andhra Pradesh on Thursday.
Baruva was used as a seaport during British colonial rule in India. In July, 1917, a ship, Chilaka, carrying goods sank in the Bay of Bengal along the Baruva coast. The British, after constructing a pillar to commemorate the incident, had closed down the sea port.
Srikakulam fishermen are afraid to venture into the Baruva coast in fear of deadly whirlpools and ghostly spirits that lived deep in the sea. No boats returned safe to the shore from Baruva, they said.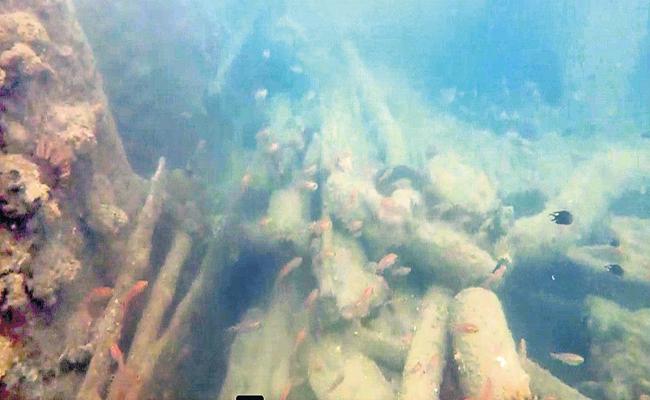 On 27 January scuba divers Balaram Naidu, Rahul, and Lakshman of Livein Adventures Firm set off into the waters of Baruva. Though the fishermen warned the divers that something mysterious lurked in the waters there, Balaram Naidu and his team was on a mission to unearth the mystery when they found the shipwreck. Mr Naidu said they found the shipwreck at a depth of over 12 meters and over 1,200 meters from the Baruva coast. "The ship had completely collapsed and our efforts to measure its length proved futile due to whirlpools and strong rip current," he said, adding, the ship may have sunk due to a fire mishap.
The Chilaka was used to transport garments, shoes, gun powder, iron, steel, dry meat, and dry fish. She was 150 meters long, 20 meters wide, and weighed 4,180 tonnes and had a maximum speed of around 14.75 nautical miles. Historian Edward Paul and a few others said Chilaka sank while she was sailing from Kakinada to Madras killing 81 people and injuring over 100.