Newsmeter Network
Hyderabad: Former Union External Affairs Minister and BJP senior leader Sushma Swaraj, 67, passed away on Tuesday night.
Sushma Swaraj was brought to the All India Institute of Medical Sciences at around 10.00 pm and was taken to the emergency ward. Doctors said that she suffered a massive heart attack. Sushma underwent kidney transplantation in 2016.
Prime Minister Narendra Modi condoled the death of Sushma Swaraj.
He wrote "A glorious chapter in Indian politics comes to an end. India grieves the demise of a remarkable leader who devoted her life to public service and bettering the lives of the poor. Sushma Swaraj was one of her kind, who was a source of inspiration for crores of people. Sushma was a prolific orator and an outstanding Parliamentarian. She was admired and revered across party lines.,"

Modi further tweeted "She was uncompromising when it came to matters of ideology and interests of the BJP, whose growth she immensely contributed to.
An excellent administrator, Sushma Swaraj set high standards in every Ministry she handled. She played a key role in bettering India's ties with various nations. As a Minister we also saw her compassionate side, helping fellow Indians who were in distress in any part of the world. I can't forget how Sushma Ji worked tirelessly as EAM in the last 5 years. Even when her health was not good, she would do everything possible to do justice to her work and remain up to date with matters of her Ministry. The spirit and commitment was unparalleled".
Senior BJP leader Rajnath Singh tweeted,
Smt Sushma Swaraj served the nation with diligence and brilliance. Her contribution to the nation and the party will always be remembered.
I offer my heartfelt tributes to her and extend my condolences to her bereaved family".
It was difficult for people to believe about her sad demise of their favourite leader as her last Twitter post was just few hours ago where she thanked Prime Minister Narendra Modi about the government's move on Kashmir stating that she was waiting for this day in her lifetime.
Congress also took to Twitter to condole the death of Sushma Swaraj.
Senior Congress Leader and MP Sashi Tharoor tweeted, Shocked & saddened by this news. I last saw Sushmaji at @PMOIndia's swearing-in two months ago. She was a brilliant speaker in Hindi, a genuine "people's person" in Government &I was proud of our excellent relationship when I chaired the External Affairs Committee. Om Shanti".
Sushma Swaraj was born on in 1952 in Ambala, Haryana,
Sushma's father Hardev Sharma, was a Rashtriya Swayamsevak Sangh (RSS), leaders. She went to college in Haryana and she obtained her legal degree at Panjab University in Chandigarh.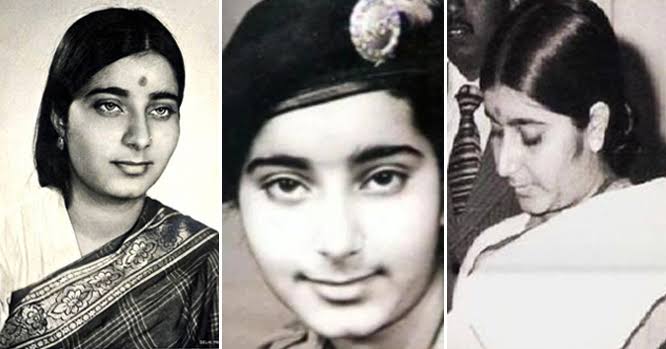 In 1975 Sushma married Swaraj Kaushal an advocate and politician who also served as governor of Mizoram in the 1990s. Sushma was elected for the first time in 1977 on Janata Party ticket. She was the first woman Chief Minister of Delhi.