Hyderabad: Bollywood actress Shabana Azmi's car rammed into a truck on Mumbai-Pune's Express Highway resulting in an accident. The incident took place on Saturday afternoon when she was travelling along with her husband Javed Akthar.
As per reports, Her car, in which her husband and noted lyricist Javed Akthar were present, crashed into a truck at Pune near Khalapur, which is 60 km from Mumbai. This accident happened around 3:30 pm.
Besides, both the celebrities, there was another unidentified woman travelling along with them. Javed Akthar reported to have escaped with minor injuries while Shabana Azmi's suffered injuries. The front part of the car has been damaged completely, as seen in the photographs.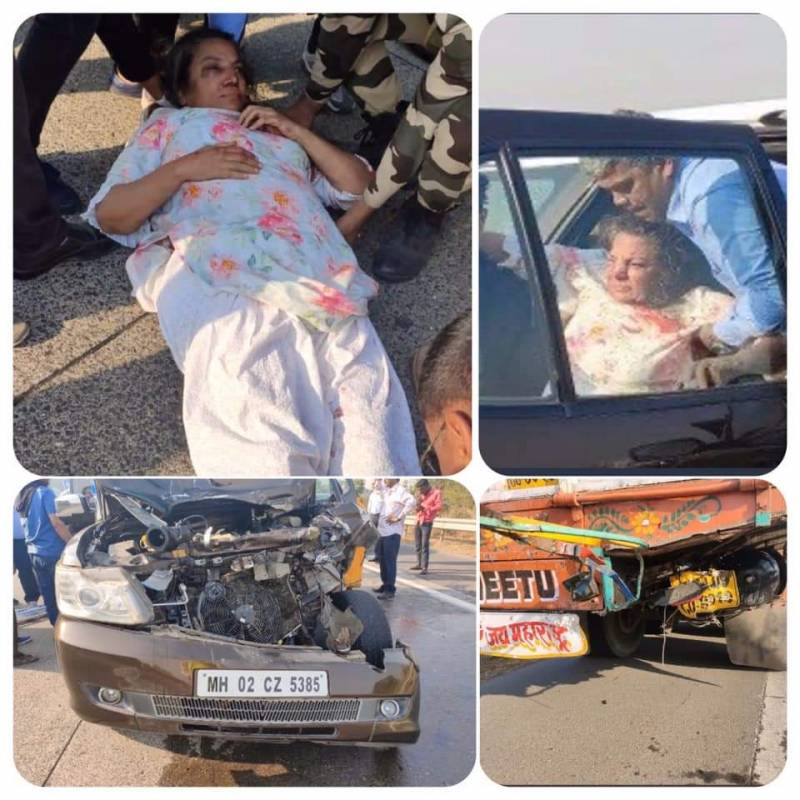 The Raigad Police have issued an official statement regarding the accident. It reads, "Shabana Azmi and her driver were injured in an accident near Khalapur on Pune-Mumbai Expressway. While they were driving from Pune to Mumbai their vehicle hit by a truck on the expressway. Javed Akhtar was also present in the car who is safe. Both the injured have been shifted to MGM Hospital." (sic)
The accident took place 2 kilometres before Khalapur toll booth, according to Maharashtra traffic police headquarters officials. She ( referring to Ms Azami) has sustained injuries on her face including neck and chin and near the eye, as she was sitting next to the driver
It is to note that, a day before, the couple has celebrated the 75th birthday of Javed Akhtar and a huge party was thrown at their house where many prominent personalities from Bollywood were present. However, it is still not known where the couple was headed.
Several Bollywood celebrities tweeted about the accident and wished for Shabana's speedy recovery. Filmmaker Hansal Mehta wrote, "The Mumbai-Pune expressway has always been dangerous and there is little or no monitoring to prevent rash driving. Have seen so many terrible accidents there. Hope #ShabanaAzmi is fine. Dear @OfficeofUT please improve safety on this route urgently. It is quite a death trap."
More updates on the situation are awaited.