Delhi: JNU scholar-turned-Kashmiri activist and leader of Jammu and Kashmir People's Movement Shehla Rashid has been booked under sedition by the Special Cell of the Delhi police for her tweets on alleged human rights violation in Kashmir.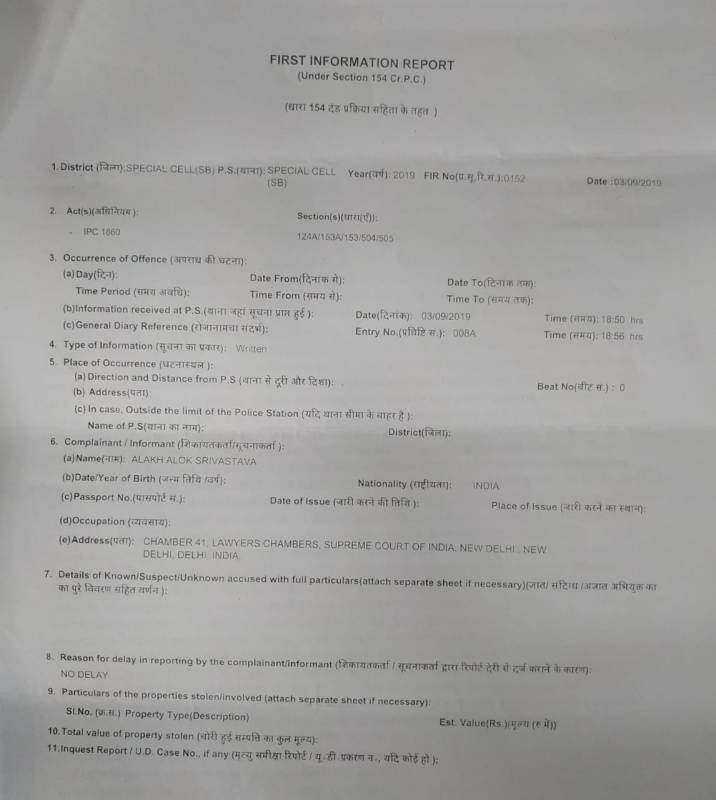 The FIR against Shehla has been registered under Sections 124A (sedition), 153A (promoting enmity between different groups on ground of religion), 153 (wantonly giving provocation with intention to cause riot), 504 (intentional insult with intent to provoke breach of peace), 505 (spreading rumours) of the Indian Penal Code.
Background of the case
Shehla, in a series of tweets, described the current situation in Kashmir. She alleged that the Armed Forces are 'torturing' civilians.
Rejecting Ms Shehla's allegations on the situation in Kashmir the Indian Army called the allegations "baseless."
Later, Supreme Court lawyer Alakh Alok Srivastava filed a criminal complaint against Ms Shehla and sought her arrest for allegedly spreading fake news against the Indian Army and the government of India.

The complaint copy states that Ms Shehla is deliberately and intentionally spreading 'fake news' with the intention to
*Incite violence in the country.
*Malign the image of our revered Indian Army nationally as well as internationally.
*Create unrest in the Union Territory of Jammu and Kashmir and other parts of the country.
*Promote disharmony, enmity, hatred and ill-will between different groups and also to provoke breach of peace in our country.
The complainant has further alleged that Ms Shehla intended to excite disaffection towards the government of India, which is prima facie an offence of sedition under Section 124-A IPC.
He further alleged in his complaint that that former JNU students union leader has committed offences of 'promoting enmity between the classes' under Sections 153, 153-A, 504 and 505 of Indian Penal Code (IPC); Information Technology Act, 2002 amongst others.