Mumbai: In a big blow to the NCP ahead of the Maharashtra polls, MP Udayanraje Bhosale and descendant of Chhatrapati Shivaji Maharaj quit the Sharad Pawar came and has joined the BJP in the presence of Union home minister Amit Shah and Maharashtra CM Devendra Fadnavis in Delhi on Saturday.
Before announcing his decision to join the BJP, Mr Bhosale met NCP supremo Sharad Pawar on Thursday. Mr Bhosale along with Maharashtra CM Devendra Fadnavis flew to Delhi on Saturday morning. Mr Bhosale submitted his resignation as NCP MP to the Lok Sabha speaker Om Birla and officially joined BJP in the presence of the party president.
Similar read: Ink attack on Maharashtra CM convoy
While speaking to the media, Mr Bhosale said he agreed with Prime Minister Narendra Modi's policies and vision and will work for Maharashtra as a BJP leader. Mr Amit Shah said that he was happy that the descendant of the great warrior and king Chhatrapati Shivaji Maharaj has joined the party. Shah also asserted that Bhosale's presence will help the party in the upcoming Assembly elections.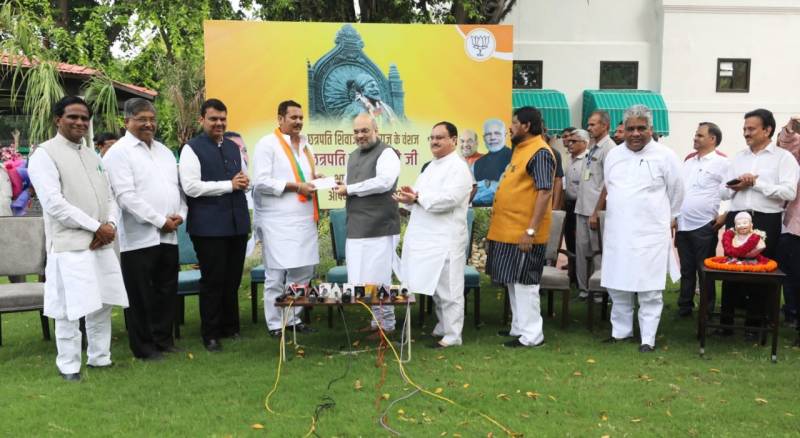 Bhosale's decision is considered to be a big jolt to the NCP as he was a sitting MP from Satara in Maharashtra. He is among the half a dozen NCPs high profile leaders who have deserted the party recently. Bhosale was the minister of state revenue between 1995 to 1999.
Since 2009, Bhosale has been elected as the Lok Sabha MP from Satara. In the 2019 Lok Sabha election, he defeated Shiv Sena candidate Narendra Patil. Interestingly, after Bhosale's entry into the BJP, Sena will have to leave the Satara seat to the BJP.
Meanwhile, Mr Bhosale is also expected to take part in the BJPs Mahajanadesh Yatra in Satara on September 15. Bhosale is a tall figure in Satara district and his defection is expected to bolster the BJP while improving it's standing with the Maratha community.