Tamil Nadu: Video of Dalit man's body dropped from bridge into funeral pyre in Vellore goes viral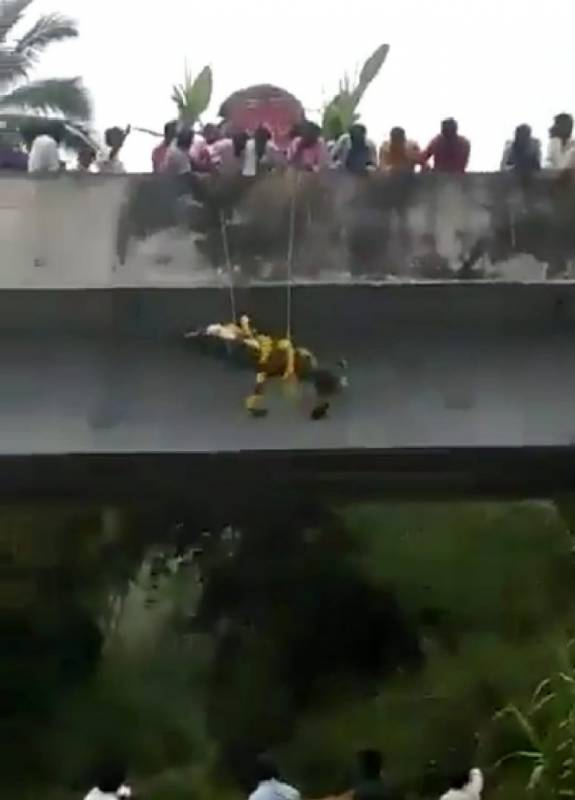 Chennai: A shocking and sad video of casteism has surfaced in Vellore, Tamil Nadu. The video shows how casteism is deep-rooted in our society and how it fails to die despite all technological developments.
The bizarre video that is going viral is of a Dalit man's body being lowered down from a bridge by a few in Narayanapuram village in Vellore district. The reason being the unavailability of a crematorium for them in
the taluk. The Dalits here cannot have a respectable farewell even after their demise and it is said that this is what happens everytime someone dies in their community.
Those who breathe their last are tied to a rope and lowered into the bridge straight into a funeral pyre. The villagers, who belong to the Dalit community, say, "Our plight is pictured in this video. We can't live with
dignity and we even can't die with dignity." The death of one Kuppan last week brought their plight to limelight.
"Our men were denied permission to carry the body just because he is a Dalit through a farmland. We take a circular route. Denied permission to step inside the crematorium, we tie the dead and lower it down with a rope
from the bridge."
Asked if they approached government officials, they said, "We knocked many doors but all appeals fell on deaf ears."
However, government officials say that a thorough enquiry will be conducted to find out whether such an incident occurred and strict action would be taken against anyone found guilty.