Simhachalam Devasthanam chairperson Sanchaita breaks tradition, offers silk robes to Pydithalli Ammavaru at Vizianagaram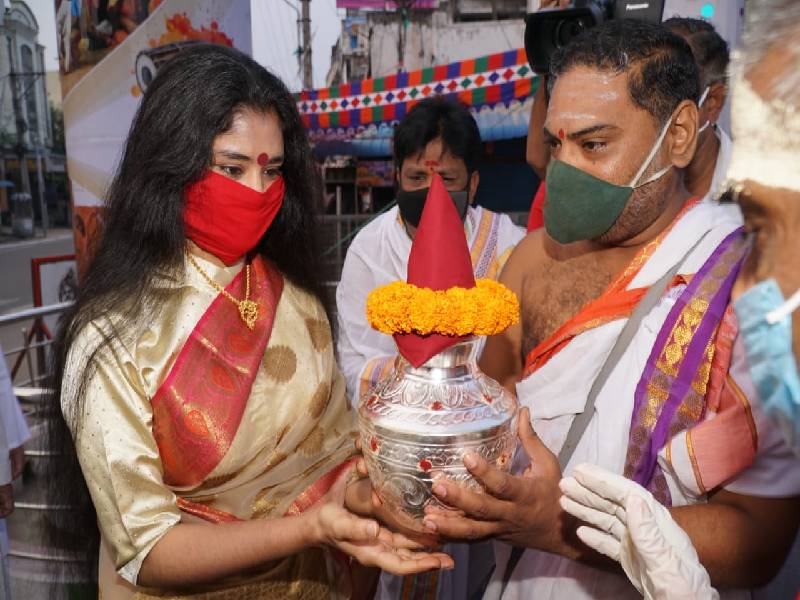 Vizianagaram: Simhachalam Devasthanam chairperson Sanchaita Gajapathi Raju broke 800-year-old tradition when she offered silk robes to Pydithalli Ammavaru at Vizianagaram town on Tuesday.
The scion of Vizianagaram is the chairperson of MANSAS Trust and Simhachalam Devasthanam.
Sanchaita broke the 800-year-old tradition and offered silk robes to Lord Nrusimha Swamy, the sitting deity of Simhachalam temple during annual Chandanotsavam.
She visited the temple at 6 am. After presenting the silk robes, she performed puja and left for home.
"For the first time, I gave 1001 coconuts that were grown in the Fort premises. I told the temple authorities to distribute the coconuts among the children who need nutritious food during this challenging time,'' Sanchaita said.
She said earlier fruits and coconuts were auctioned and sold for a meager sum of Rs 25,000. Now sales would be stopped and the fruits would be served to the students as a part of a mid-day meal.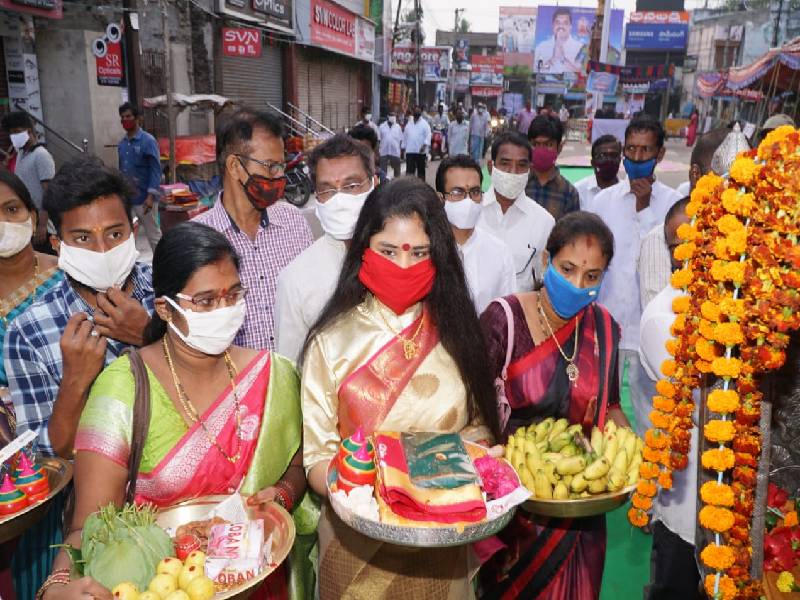 Meanwhile, the arrangements were finalized for the Sirimanotsavam to be held on Tuesday. The folk festival will be held probably for the first time without crowds, cultural activities, and other events due to the Covid-19 pandemic.
Traditionally, the Sirimanu Jatara, the biggest folk festival in north-coastal Andhra Pradesh is celebrated on the first Tuesday after the Dasara festival every year. The annual fest, also known as Sirimaanu Panduga, draws three to four lakh people from different parts of Andhra Pradesh and also from neighboring Odisha and Chhattisgarh.
The devotees witness the spectacle of the priest sitting on top of the 55-foot pole (Sirimanu) in regal robes to be taken around the fort. As per the tradition, devotees threw bananas at the priest as they believe that the priest is possessed.
The district administration on Friday held a meeting with leaders of various political parties, representatives of various associations, and others on how to celebrate the festival owing to the Covid-19 pandemic.
District Collector M Hari Jawaharlal and Minister Botsa Satyanarayana decided that the festival should be a low-key affair this year.