Highlights
Mr.Bhavin Bhalodi, single handily started cleaning the dam
"Like 'Ghandigiri', we have started 'Muncipalgiri' that is 'You throw it, we pick it"
Hyderabad: One day, while on his walk around Karrimnagar dam, Mr Bhavin Bhalodi noticed something that deeply upset him. He noticed that his walking route was littered with garbage and a lot of it was found floating in the dam.
Karimnagar dam is a popular hangout spot for the citizens of Karimnagar. People go there for their morning walks, do yoga or enjoy a peaceful evening by the side of the dam. But the area around the dam has now become a garbage zone. A lot of plastic bottles and chips packets are thrown in the dam regularly.
A Karimnagar man, disturbed by the amount of garbage at his favourite spot, decided to clean the dam. On September 28, 2019 Mr.Bhavin Bhalodi, single handily, started cleaning the dam. Witnessing him clean the dam, many other people came forward and began helping him.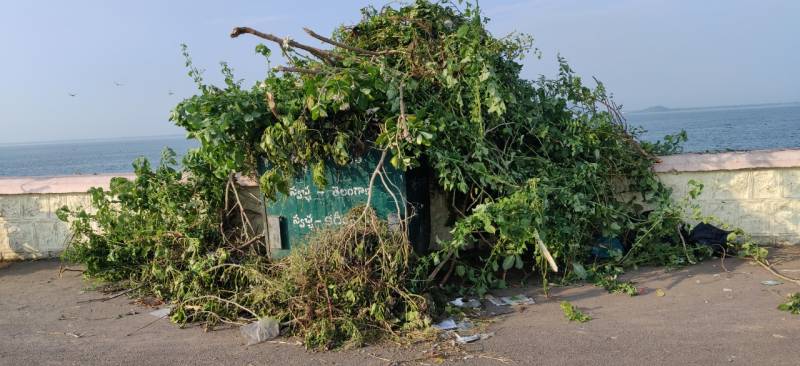 Mr.Bhavin Bhalodi on his personal Facebook and Twitter pages began urging people to clean the dam and used #CleanKarimNagarDam. After 18 days of protests, an average 6 to 10 people are now going every day at 6 am to the clean the dam.
"To raise awareness, two cleaning sessions are conducted, one in the morning and one in the evening. Around 20 people come for cleaning on Sunday", says Bhalodia.
Bhalodi says that not only adults but even kids, who care about their future, come and join him for the cleaning. A boy studying in class eight comes regularly with his brother to help Bhalodi.
Bhalodi said, "The main reason for this litter is lack of dustbins in the place." There were only six dustbins in the place. Bhalodia with the help of his other fellow mates contacted the Municipal Commissioner, who helped them to get an additional six dustbins. Bhavin Bhalodi says, "Even 12 dustbins are not enough, it is 10% of what the dam area needs." The dam covers 2 to 3km of area.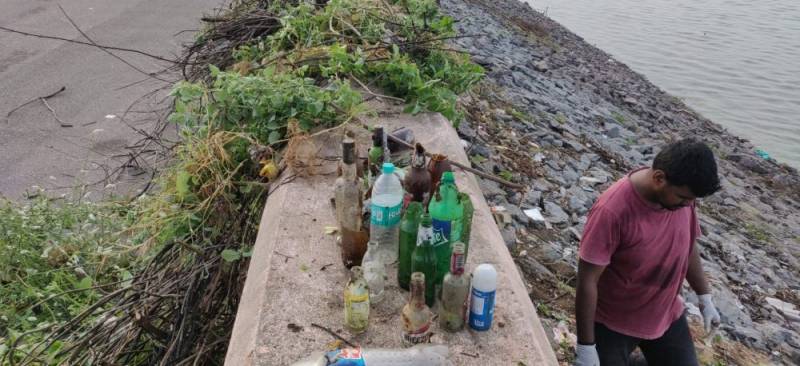 On 27 September, Bhavin Bhalodia for the first time went for a morning walk, near the dam. He thought, he would find some mental peace, but instead, he found garbage there. He then decided to clean the place. He says, "When Arfroz Shah from Mumbai can clean a big beach, then the dam is a tiny thing to do. This is what inspired me and the next day I started cleaning the place by myself."
Bhalodi says not only adults, even kids who care about their future come and join him in cleaning. A boy studying in class eight regularly comes with his brother to help Bhalodi.
Bhalodi says they have also contacted local MP's and MLA's asking them to get dustbins. He believes that if there are ample number of dustbins then it might help solve the garbage menace.
He says that people are responsible for the garbage accumulated there. He and his volunteers found that the places they cleaned were littered again and the municipality was collecting the garbage that they cleared from the dam. Bhalodi says, "We are trying our best, but people are not co-operating. Like 'Ghandigiri', we have started 'Muncipalgiri' that is 'You throw it, we pick it,' this is our motto."
He says that he is highly disappointed by the people who throw garbage even after the place is cleaned. But he is disheartened and will continue with his work.