Chittoor: The two-day 'Adventure festival' began on a grand note at Horsely Hills here on Saturday.
It was jointly inaugurated by Madanapalle Sub-Collector Chekuri Keerthi and Assistant Collector Prudhvitej Immadi.
This is an annual event and holidaymakers from Andhra Pradesh, Karnataka and Tamil Nadu have started visiting the place to enjoy the fest for which elaborate arrangements have been made by AP Tourism Department. The series of events includes cycling, trekking and running. Students of various colleges have actively participated in cycling.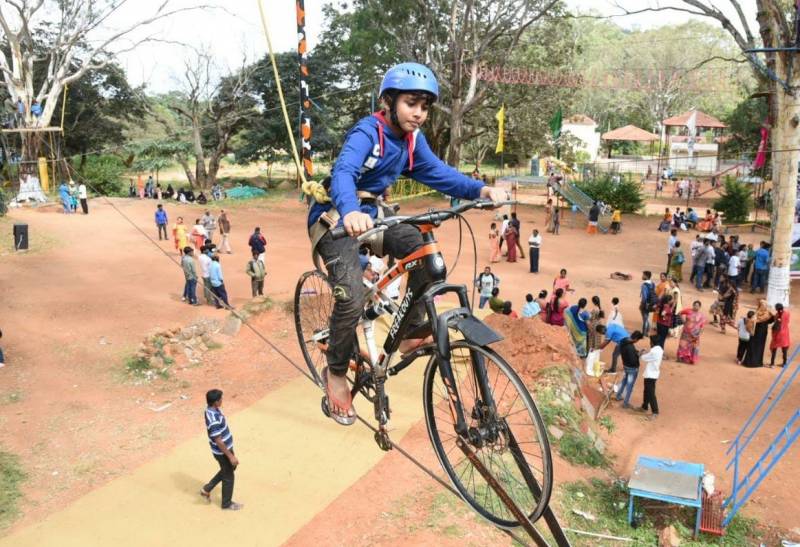 The tourism department and district administration have also organized Adventure Tire Sport for children, riding a bicycle on a rope suspended in the air is a big draw with the participants.
People from Bengaluru and Chennai find it as an exciting weekend gateway. The several hills and forests provide a fascinating backdrop to the quaint hill town. Zorbing, Trekking, Rappelling are other adventure sports offered as part of the festival.
Thamballapalle MLA Peddireddy Dwarakanath Reddy, who attended the event, said that the festival has been receiving enormous response from tourists from across south India. He appealed to the tourists to support artisans by patronizing handicrafts. Sub-Collector Keerthi informed that they would provide skill development training to women. Later, she gave away prizes to winners in various competitions.