Highlights
Srikakulam's B Ramana gets death in Egypt for alleged drugs trafficking

Ramana has been in prison for past three years

Family members of Ramana wait for safe return of Ramana from Egypt
Srikakulam: The family members of Baggu Ramana, who has been sentenced to death by an Egyptian Lower Court by for his alleged involvement in the smuggling of drugs, has requested the Minister for External Affairs Subrahmanyam Jaishankar to take steps to save Ramana and bring back Ramana to India.
The 25-year-old Bagga Ramana is native of Chandrayyapeta in Srikakulam district and he is a mason by profession.
In 2016, Ramana met one agent KS Varma, who runs SKD Marine job consultancy office in Vizag city. Ramana paid Rs4 lakh to Varma for a seaman job.
Without any training and Continue Discharge Certificate from the job consultancy, Ramana got joined as Seaman Job the SKD Marine Company made him board a drug-trafficking ship from Iranian ship in October 2016.
In December 18, 2016, Ramana among few others on the ship were arrested by Egyptian Coast Guard personnel for drug smuggling.
Ramana used to speak to his parents B Appanna and B Satyavathi and also with his younger brother B Anand and younger sister B Mangamma over phone once in two-months from the prison. But, Ramana hasn't informed his parents that he was in the prison.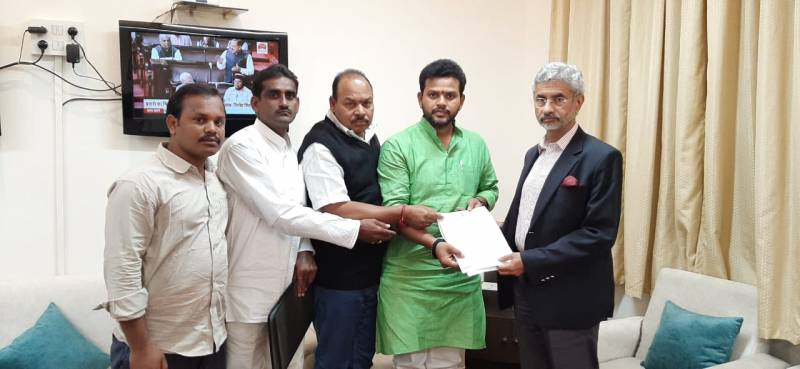 Ramana's sister Mangamma's engagement ceremony held in December 2018. Though parents of Ramana asked him Ramana to attend the ceremony at any cost, Ramana failed to attend. The parents haven't received any phone call from Ramana.
Expressing doubts over the safety of Ramana, parents of Ramana approached Srikakulam police and lodged a missing complaint. In September, 2019, Ramana's father Appanna received information from AP Police NRI Cell that Ramana was arrested in Egypt.
The NRI Cell also recently stated that Ramana was sentenced to death by the Egyptian lower court in the drug smuggling case.
We approached Minister Subrahmanyam Jaishankar and Union Minister of State for Home Affairs G Kishan Reddy along with our Srikakulam MP Rammohan Naidu Kinjarapu and requested them to save our Ramana who was forcefully branded as drug smuggler said Ramana's parents Appanna and Satyavathi.
Srikakulam MP, Rammohan Naidu said that the Indian embassy had appointed a criminal lawyer to deal with the case and will write a letter to the Egypt government seeking permission for intervention.
Since the case will come up for hearing in the higher court on January 22, 2020, we are making all the efforts for release of Ramana and also requested the officials and ministers to take action against Varma of SKD Marine Company, who has duped several unemployed youth and made their life miserable, Rammohan Naidu added.
Sources in the police said that Varma downed the shutters of SKD Marine job consultancy office in Vizag and he has been absconding. EOM