Srisailam fire: Scientists, journos write open letter to CM KCR on the faults at the power station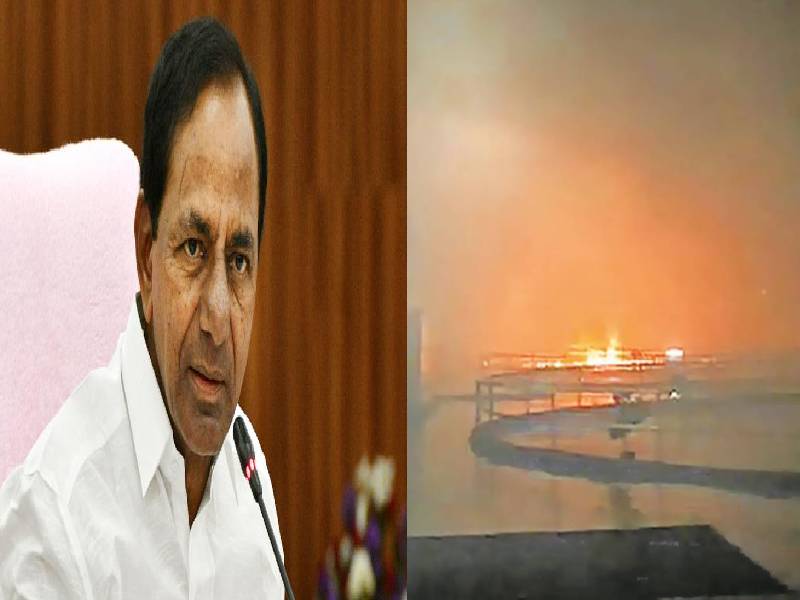 Hyderabad: Scientists, along with journalists, former Navy personnel, energy and power policy experts, seven socio and political organisations, wrote an open letter to Telangana Chief Minister K. Chandrasekhar Rao questioning the safety measures and pointing out the faults at Srisailam left bank hydropower project which led to a major fire mishap at the plant.
In the letter, they have pointed out the faults which could have caused the fire after short circuit at the plant. "We are now convinced that these deaths were unnecessary and are the result of the complete lack of safety culture in TSGENCO. These deaths were a result of inadequate safety provisions in the design of the hydropower station building," said the letter.
They alleged that there was no evidence that this hydropower station was built with international standards such as Recommended Practice for Hydroelectric Generating Stations, National Fire Protection Association (NFPA) 851 (Recommended Practice for Fire Protection for Hydroelectric Generating Plants), in the absence of any national standards. They also said that no safety up-gradation was done to meet the current safety standards after two previous flooding incidents (1998 & 2009) and one fire accident in 2019 at the right bank station.
The signatories of the letter are Dr E.A.S. Sarma, former secretary, Ministry of Power, GoI, Justice Chandra Kumar, President, Telangana Rythu Sankshema Samithi, Dr Sandeep Pandey, Ramon Magsaysay Awardee, Capt J. Rama Rao, Indian Navy (Retd), Sagar Dhara, Former UNEP Consultant, Shankar Sharma, Power Policy Expert, Himanshu Thakkar, South Asia Network on Dams and River Projects, Dr Lubna Sarwath, gGeneral secretary, Socialist Party of India, Telangana, Scientists for People Human Rights Forum, Jana Vignana Vedika, India March for Science, Telangana, Telangana Vidyavantula Vedika, National Alliance of Peoples Movements, Telangana and South Asia Peoples Action on Climate Crisis.
They also mentioned in the letter that there is no mention of any fire alarm to alert the employees after noticing the fire. "We come to this
conclusion based on the failure of the employees to properly conduct an evacuation as per a predetermined plan. Life safety comes first in such situations. There is no fire suppression system. Portable extinguishers were used to fight panel fire. Fire can double in size every 30 seconds and fire extinguishers are inadequate after initial stages of fire. If the employees were trained in fire safety and had at least a rudimentary understanding of fire science, they would have attempted to exit the building immediately after failing to contain the fire with extinguishers." the letter mentioned.
They provided the example of the Watts Bar hydroelectric plant fire in the USA in 2002. "This fire shows the importance of compliance with the Life Safety Code. There are very few means of escape from the powerhouse and several places where an employee could be trapped and seriously injured or killed. Worse, there was no emergency lighting and employees were plunged into total darkness when the power failed."
"They also pointed out the exit routes should have adequate emergency lighting for 1.50 hours after the alarm for evacuation was rung. Two alternative routes of evacuation are to be provided for escape for each floor. There are several combustibles like hydraulic and lubrication oils in a hydropower station and they contribute to fire and smoke. Smoke is more harmful than fire as it incapacitates a person in two subsequent breaths without leaving anytime to react. Those remaining in the station were overwhelmed by the smoke and lost life. Proper escape route would have saved those lives."
"We are also unable to agree with valuing the dead differently in payment of compensation. Let us at least treat all the dead in the incident as equals. All Indians are equal as enshrined in our Constitution. We urge the Government of Telangana to begin safety audit for the hydropower stations in our state and implement all relevant international safety standards as highlighted in points above at all these stations. Development is not merely increasing wealth. It also implies developing a culture that sustains that wealth generation," the letter mentioned
Working president of Telangana Congress Committee Revanth Reddy also wrote a letter to PM Narendra Modi and Union home minister Amit Shah and Jal Shakti minister seeking CBI inquiry into Srisailam fore mishap. He also requested Rs 1 crore ex-gratia for the kin of the deceased.