Hyderabad: India's gaming community has been starving for a 'chicken dinner' ever since Wednesday when the central government issued an order to ban the mobile app version of Players Unknown Battlegrounds (PUBG) citing national security. The app version of the Korean origin game is owned by Chinese conglomerate 'Tencent'.
Soon after the document of 118 freshly banned Chinese apps was released by the Ministry of Home Affairs, several rushed to play their last round on the multiplayer game, and live stream their emotions upon being hit by pans, M24s, and AKMs, one last time.
Members of the Telugu gaming community, who stream the game on their official Youtube channels were caught off guard. Lohit, who goes by the username 'LokiYT', was in the middle of his stream when his 35,000 live viewers started spamming his chatbox with the news.
"I was extremely confused when I read the news. After the initial round of bans, I was quite sure that the government would not ban a game. Once it happened I was baffled," said the Andhra-based content creator.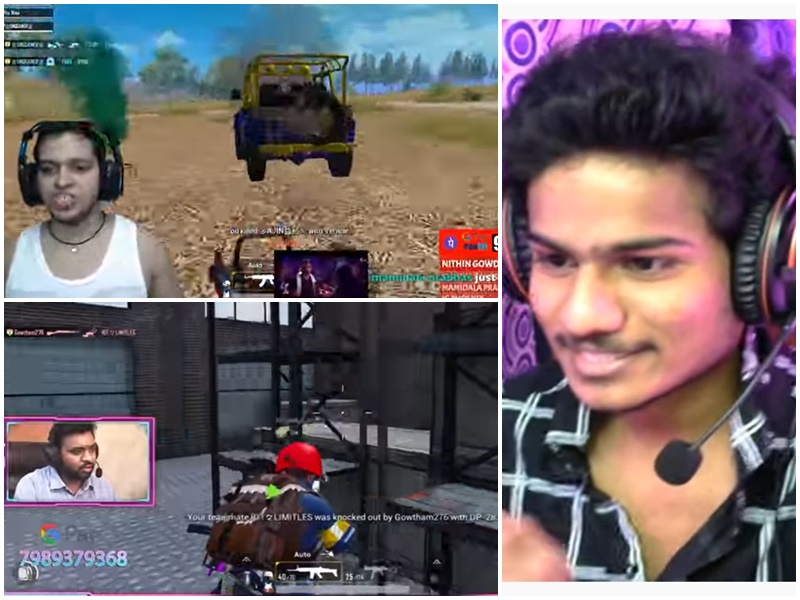 Raju King, Lohit, and Dharmesh during live streams
He has been producing PUBG related videos for over a year. He plays the mobile app version of the game for his audience. He currently has over 1.4 lakh subscribers on his official YouTube channel, where he gets an average of 30-40 thousand viewers on his live streams daily.
Another Telugu creator, Ramesh said he was blown away with the news of the ban. Speaking to his subscribers in a live stream the same day, he said: "This is a tough time for all of us, but we need to understand that the reasons behind it are bigger than just entertainment."
Ramesh has been posting his pre-recorded videos for two years. He has over 3.4 lakh subscribers. His daily streams get an average of 1 lakh viewership.
The most subscribed Telugu gamer, Raju, has been releasing PUBG videos for over a year now. His close to 3 hour live streams every day have helped him gain over 9 lakh subscribers, of which 5 lakh engage with him during all of his live streams.
On the day of the ban, the Hyderabad based creator live-streamed the game for 6 hours and pacified his audience. "I look at the game as a way of busting stress. I only want to give my viewers a good time," he said.
His stream on the day was watched live by 1.5 million viewers.
Raju noted that to become a full-time streamer, he gave up his business in the city.
All three content creators used the game's live streams to earn money. Along with their gameplay screen and their faces in the frame, one could always see a number where viewers can donate to the streamer. In a way, the live streams helped them find an alternate career.
As of July 2020, India currently ranks number one in the game downloads. PUBG Battlegrounds has been downloaded a whopping 175 million times in India. Data analytics firm Sensor Tower has revealed that the game saw a global revenue gain of $1.3 billion (roughly Rs 9,731 crore) in the first half of this year.
Lohit said they will soon find another game to switch to that they can continue to entertain the audience. "However, it will be a cause of trouble for those streamers who have signed a contract with the company to endorse the game on their channel," he said.
While PUBG was launched as a computer game by South Korean company Bluehole in 2017, the mobile version was published by Chinese conglomerate Tencent a year later. The game has been banned as a result of continuous Indo-China border disturbances in Ladakh's Galwan Valley.