Hyderabad: When Neela Yellaiah left his home for United Arab Emirates (UAE) in search of a better job opportunity, little did he realize that he will not be able to see his family for 16 years.
Hailing from Chinthamanpalli village in Domakonda Mandal of Kamareddy district, Neela Yellaiah had gone to Dubai in 2004 to work as a construction worker in a company.
Luck however had other things in store for him. He left the job only to become a 'Khallivelli' (irregular resident) under UAE rules. For the past 16 years, he has been doing odd jobs in Dubai and Sharjah.
Lockdown has left thousands of labourers in the tourism, hospitality, and construction sectors, jobless. The passports of these migrant labourers have been withheld by the company.
"Neela Yelliah doesn't have a passport, which was withheld by the construction company. Because he left his job in the middle, the company never returned his passport," said Rupesh Mehta of Jain Seva Mission.
Rupesh Mehta noticed the miserable situation of Neela Yellaiah when he was distributing free dry ration among distressed migrant workers in Sharjah. Rupesh Mehta is now trying to get an Emergency Certificate (Temporary Passport) for Yellaiah through the Indian Consulate in Dubai.
The issuance of an Emergency Certificate is possible only if Yellaiah submits the previous passport details when he entered the UAE 16 years ago.
"Yellaiah has no evidence other than a voter ID card, ration card to prove his nationality. He doesn't remember the passport number or any other details. When we asked his name, he said Leela. While on the voter ID card it is written Neela," said Rupesh Mehta.
Rupesh Mehta has now sought help from the Pravasi Mithra Labor Union in Telangana to reach out to Yellaiah's family members.
Representatives of Pravasi Mithra have contacted his wife to gather some details so that Yellaiah can return home. He has a daughter and a grandson back home.
"I had to work as a daily wage labourer to sustain my family. We just want him back, I request the authorities to bring my husband from Dubai," said Neela Rajavva, wife of Neela Yellaiah.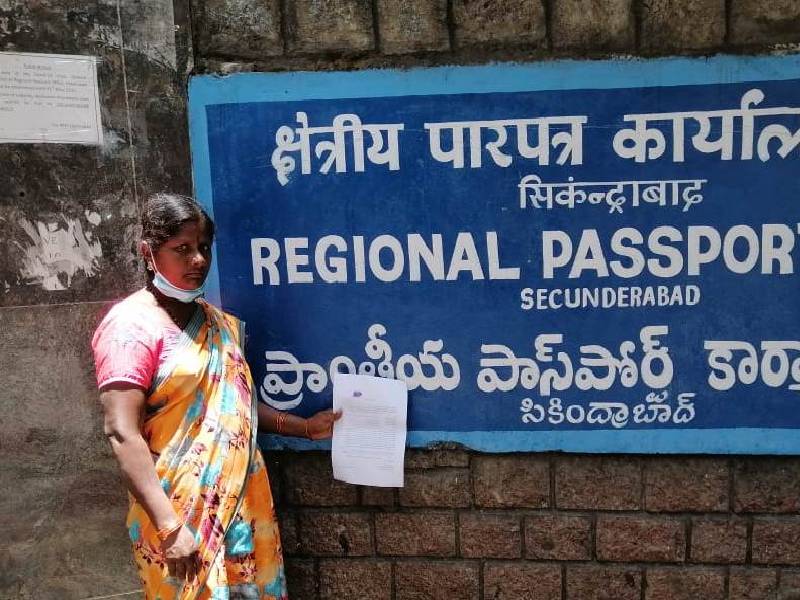 Neela Rajavva, wife of Neela Yelliaih
Neela Yellaiah's daughter doesn't remember much about his father, "I have no idea how he looks. I and my mother suffered a lot. My mother is not well. If he comes home, she might feel better," said Sunanda, daughter of Neela Yellaiah.
On July 27, Pravasi Mithra brought Neela Rajavva to the Passport Office in Hyderabad to complete the formalities. She tried to meet the Regional Passport Officer, but due to the COVID situation, it did not materialize. Later she submitted the petition to the Passport Officer on twitter with the help of a migrant rights activist Bheem Reddy Mandha.
[embed]https://www.youtube.com/watch?v=75JE_ITGpdk[/embed]
"The passport office must have some details about him. If we get the passport number which was issued before 2004, the consulate in Dubai will offer Emergency certificate," said Bheema Reddy Mandha of Pravasi Mithra Labour Union.
If he will not get details about his passport within a week, he might land in prison as UAE Amnesty scheme for overstaying migrants will end on August 18 2020.