Srikakulam: Pragada Kanchana BalaSri Vasavi, a class-10 student of Government model school at Eedulavalasa in Polaki Mandal has received rare honour. She will observe the Chandrayaan-2 experiments in Bangalore along with Prime Minister Narendra Modi. Indian Space Research Organization (ISRO) conducted quiz competitions for students across the nation from 10th to 20th August to select two candidates from each state.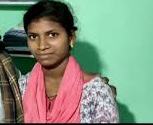 Students who answered the most number of questions in a span of ten minutes were chosen to witness the Chandrayaan-2 experiments along with the PM. All the selected candidates across the nation will watch the ISRO Chandrayaan-2 experiments at ISRO's headquarters in Bangalore along with PM Narendra Modi on 7th September.
BalaSri Vasavi's native village is Talasamudram in Polaki Mandal, a remote village and she is studying at Eedulavalasa model school in the same Mandal. She belongs to a family of farmworkers. Her father, Govinda Rao died six years ago from health issues and her mother, Tejeswari works as a labourer, attending to the farm.
"I have been working as a farm labourer and earning a meagre
amount and sending my two daughters to schools for their better future," said mother of BalaSri Vasavi. "I am very happy to receiving information that my elder daughter, BalaSri Vasavi has been selected by ISRO," she expressed.
"As a principal, I am proud about the honour received by my student, BalaSri Vasavi," said government model school principal, I.Srinivasa Rao.