Hyderabad: Several protests have started at Amrita College of Engineering in Bengaluru after a 21-year-old engineering student from the college ended his life on Monday alleging harassment by the college management. A native of Visakhapatnam in Andhra Pradesh, GNNK Sri Harsha jumped from the top of his college building located in Kasavanahalli Sarjapur Road in Bengaluru around noon.
Since then, hundreds of students gathered at the college campus demanding justice for Harsha for the alleged harassment he faced by the college management. The students said that the harassment started after students started fighting against water shortage and horrible food in their college hostel.
According to students, the quality of the hostel food deteriorated over the last couple of weeks. The students protested on September 22, 2019, citing a lack of water supply. Despite several complaints and mass protesting, the students noted that the administration did not meet their demands.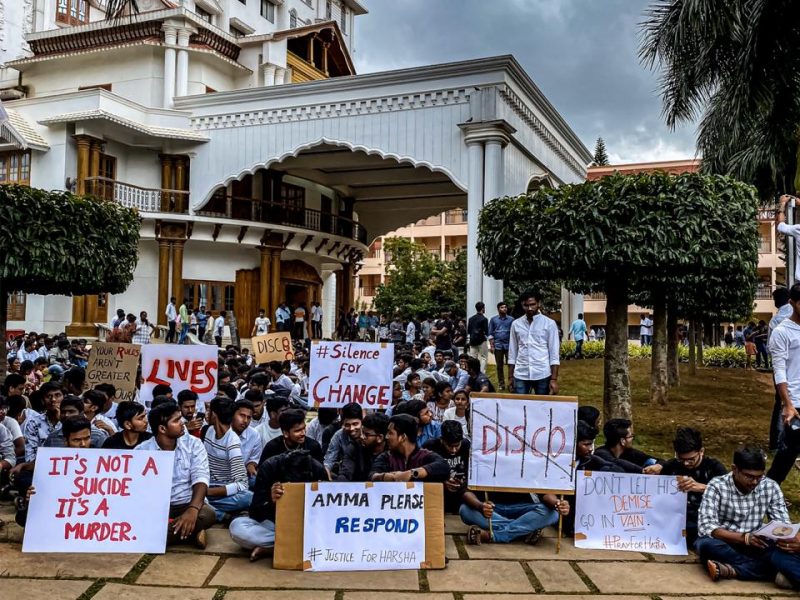 Akhil Vandanapu, a third-year-student told NewsMeter that several students were suspended by college administration after some of the college property was damaged during the protests. "Around 11 students were suspended, and two of them were fined for Rs 60,000. The students alleged that disciplinary action was taken against others without any proper evidence due to which students had to face mental agony. One of the suspended students, Harsha, committed suicide as he was suspended without any proof," he added.
While protesting in their college campus on Tuesday, the students demanded that the accused in Harsha's suicide should be presented before a court and given severe punishment. The students say that the investigation should be conducted transparently without any manipulation of witnesses or evidence.
One of the protesting students said, "Our chancellor, Mata Amritanandamayi should be here to understand why we are protesting. She should come here to hear about our problems personally."
Sri Harsha, 21-yr-old student of Amrita Engineering College jumped to death from 7th floor after he was suspended for protesting against water shortage and food quality in the hostel.

Students protest against the college demanding #JusticeForHarsha. Hope justice prevails 🙏 pic.twitter.com/nWztP0jrON

— Sir Jadeja fan (@SirJadeja) October 22, 2019
#justiceforharsha #valuelessamrita pic.twitter.com/fB17o6K0Pk

— Pooja Bollimuntha (@PBollimuntha) October 22, 2019
#justiceforharsha #valuelessamrita pic.twitter.com/vqEFWTNE9t

— Sai Rohith (@SaiRohi89011512) October 22, 2019
Also Read: https://newsmeter.in/st-francis-controversy-dress-code-remains-but-its-limited-now/