Sushant Singh Rajput death covered more widely in media than migrant labourers, farmers' issues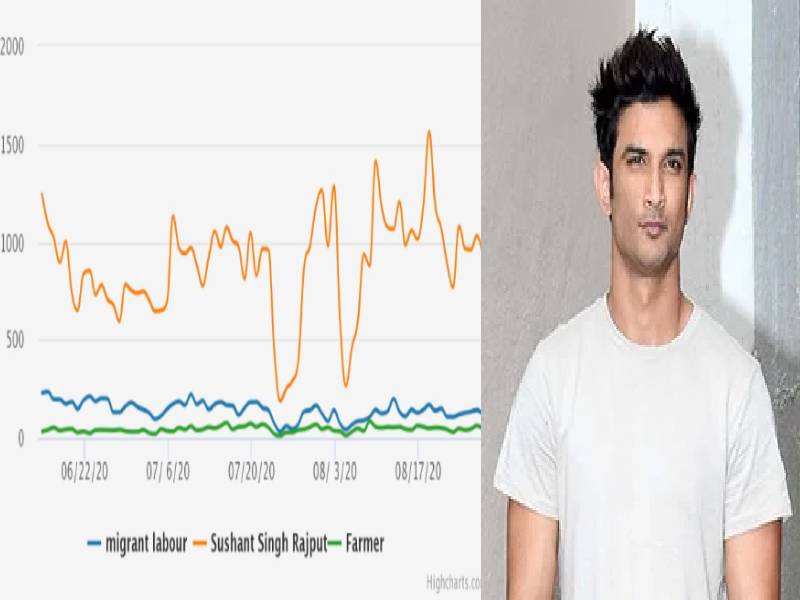 Hyderabad: The Press Council of India, on August 28, issued an advisory asking media to maintain journalistic conduct drafted by the body. This came after media coverage on the suicide of Bollywood actor Sushant Singh Rajput has turned to be the hot topic on every platform. Issues like Covid-19 cases, migrant labourers and farmer distress is nowhere seen on the media platforms.
Media Cloud, an open-source platform for studying media ecosystem, by tracking millions of stories published online shows in its data that the coverage of Sushant Singh Rajput suicide case was done on more than 130 news sources, hundreds of times more than the coverage of migrant labourers and farmers' issues in India.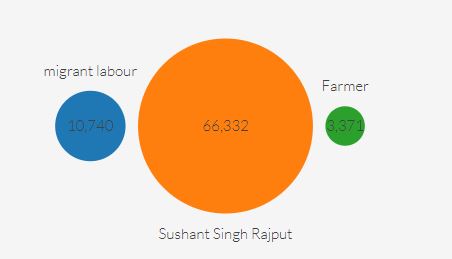 Since the death of the Sushant Singh Rajput on June 14, around 66,332 news stories have appeared on the web while 10,740 stories have appeared about migrant labour and only 3,371 stories on farmers appeared on the web in India.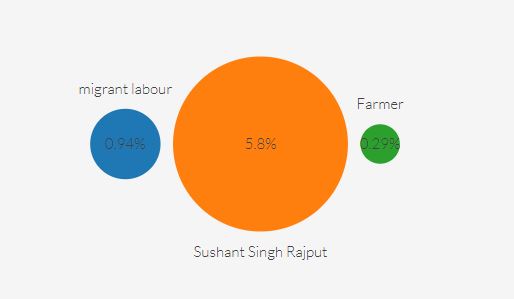 Sushant Singh Rajput story on the web is around 5.8 per cent of total stories which appeared on the web while migrant labourer stories are 0.94 per cent of the total stories and only 0.29 per cent stories are related to farmers on the web.
More than thousand stories on Sushant Singh Rajput appear daily on the web while an average 120 stories of migrant labourers appear on the website per day. The farmers' stories on the web are only 50-60 daily.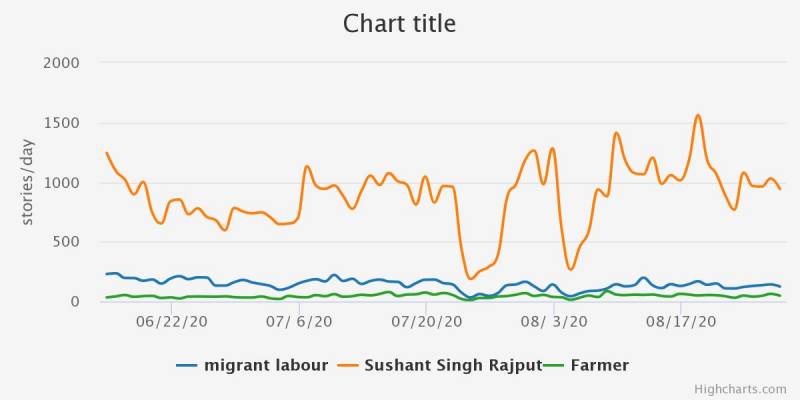 On August 18, 1,560 stories on Sushant Singh Rajput, the highest on a single day appeared on the web, while on June 14, the day Sushant Singh Rajput died, 229 stories on migrant labourers appeared on the web.
On August 8, 81 stories on the issues of farmers, the highest number on a single day, appeared on the web. On August 5, 266 stories, the least on Sushant Singh Rajput death appeared, which could be due to the Ram Mandir Bhumi Puja happening in Ayodhya, which was covered widely by all the media houses.
The issue of farmers and migrant labourers is very less compared to the coverage of Sushant Singh Rajput stories.