Highlights
UK's Health Minister, Nadine Dorries tested positive for Coronavirus
Italy recorded 10,149 positive cases, 631 dead
119,419 cases recorded globally, 4300 dead
Hyderabad: Food delivery giant Swiggy, in wake of the global outbreak of Coronavirus released precautionary measures that they're going to take from now on in order to maintain a safe and healthy environment for all.
If a customer is unwell, they may request the delivery partner to leave their package by the door (in case of online payment) or if one prefers so.
The precautionary measures are mentioned below as the following:
The delivery partners are continually being trained in best practices of respiratory hygiene, proper method & frequency of washing hands as well as identification of associated symptoms.
If a delivery partner notices ant associated symptoms, they've been asked to immediately reach out to us and consult a medical professional. We are providing them with free medical consultation through our partners in such cases.
The delivery partners have also been advised to self-quarantine themselves for the recommended period upon noticing any symptoms. To ensure their financial safety, we are committed to supporting them financially in such situations.
By staying in touch with the restaurant partners, it is also ensured that they are aware of the best hygiene practices while handling and packaging food items.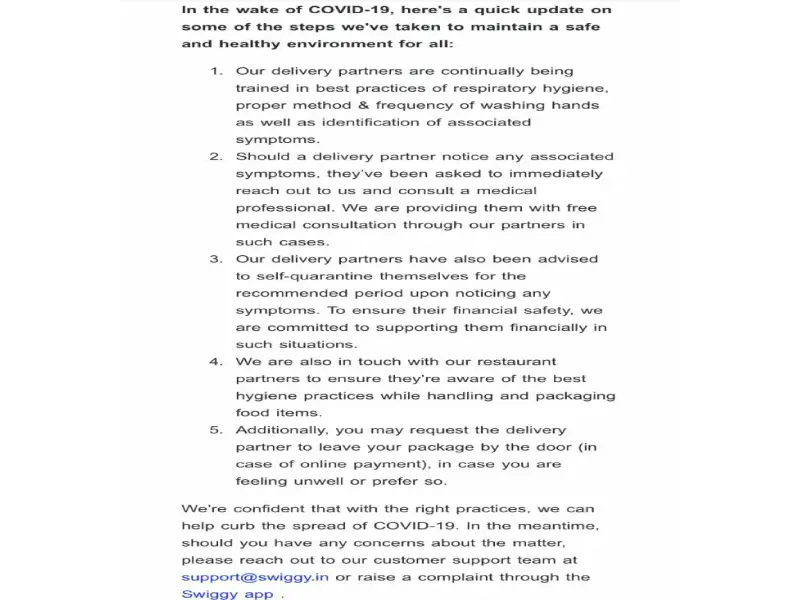 Swiggy further added that it is confident that with right practices, we can help curb the spread of COVID-19. In the meantime, if one has any concerns about the matter, once can reach out to the team.
This comes in after the total number of suspected cases for Coronavirus in India crossed 60. A recently returned student from Italy has been admitted to the Nellore Hospital as he complained of Dry cough.
In Kerala, five people from the same family had earlier been tested positive for Coronavirus. Telangana's first Coronavirus patient is currently in the isolation ward of Gandhi Hospital and is recovering well.