Swiggy standoff: Protesting delivery executives urge Asaduddin to mediate with KTR, management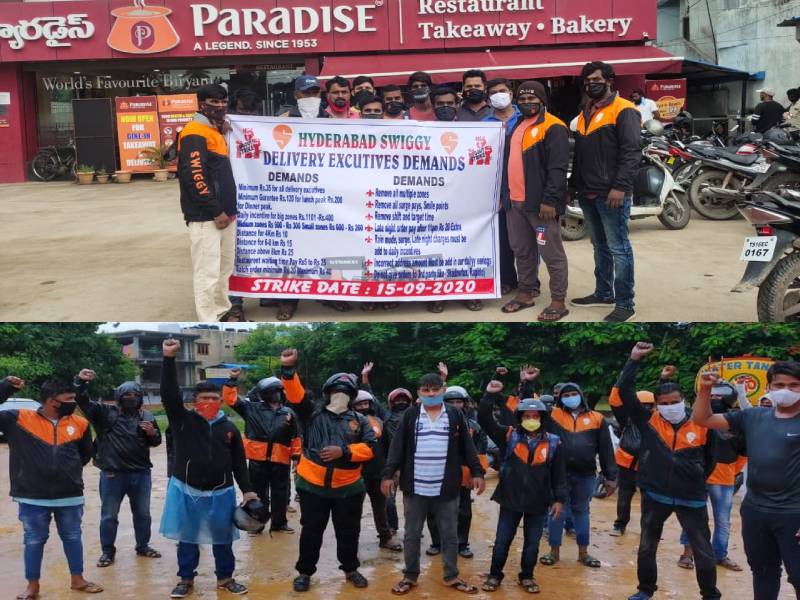 Hyderabad: Swiggy delivery executives and partners, who have been protesting for the last 19 days against cutting down of their minimum earnings from Rs 35 to Rs 15 during Covid lockdown, have written to AIMIM chief Asadudin Owaisi, MP from Hyderabad, to mediate with Information and Technology minister K.T. Rama Rao and their management and resolve their demands.
The protesters have been demanding minimum pay-out of Rs 35 per order on food delivery, stopping outsourcing the food delivery orders to third party companies like Shadowfax and Rapido and reinstatement of old incentive structure.
"We are requesting that the management of Swiggy, Hyderabad unit, to hold another meeting with the delivery executives and their representative organisation, Indian Federation of App-based Transport Workers (IFAT) to resolve the standoff," said Shaik Salauddin, national general secretary, IFAT
On September 29, the Joint Commissioner of Labour, Rangareddy zone, held a meeting with the protesting Swiggy delivery executives, their city head, and the management of Swiggy, Hyderabad unit, and suggested that that the issues be discussed. "We attended the September 29 meeting with the management but they are not responding well. They are adamant on their stand," said Shaik Salauddin.
"Even though Swiggy is collecting Rs 35 as delivery charges from the customers, it is only paying a minimum of Rs 15 to delivery executives," said the delivery executives in a statement.
Earlier, the management had denied the allegations made by Swiggy executives. "Most delivery partners in Hyderabad make over Rs 45 per order, with the highest performing partners making over Rs 75 per order. This Rs 15 is only one of the many components of the service fee. Naturally, no active delivery partner in Hyderabad have made only Rs 15 per order in the last four weeks," said Swiggy in its a statement in September.
"We would also like to clarify that during instances where our partners make more than one delivery on the same trip, they are adequately compensated for the additional few kilometres or minutes they put in," added Swiggy.