Hyderabad: The total number of COVID-19 cases in Telangana crossed 1,000 after 11 new cases were reported on 26 April. The state has so far reported 1,001 positive cases and as of Sunday, it has 660 active cases.
A bulletin released by the state public health and family welfare department said a 75-year-old COVID-19 patient, who had travelled from Markaz, has recovered and been discharged.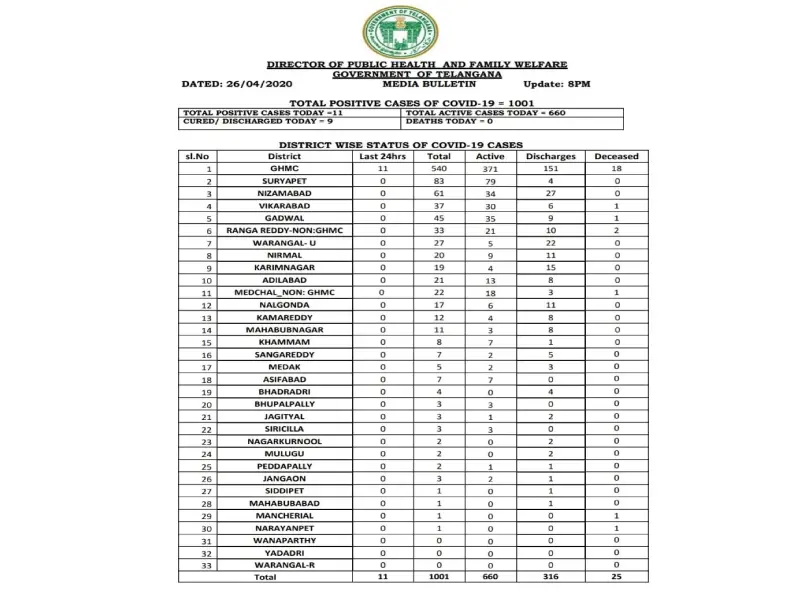 The COVID-19 death toll in the state stands at 25. Also, 316 patients have been discharged so far in the state, of which nine were discharged on Sunday.
Meanwhile,a team from center,  led by Arun Baroka, Additional Secretary, Ministry of Jal Shakti, inspected the containment zones in Hyderabad. Officials also held a meeting with Telangana Director General of Police (DGP) M Mahendar Reddy and other senior police officials.
The Central team a expressed its satisfaction on the various initiatives taken by the Telangana government to contain COVID-19 in the state, a statement from the government said.
Meanwhile, Hyderabad continues to report the highest number of positive cases with 540 cases reported so far. The number of active cases in the city has reached 371, while 15 patients have been discharged. Among other districts, Suryapet registered the second-highest number of Corona patients with a total of 83 cases being reported, followed by Nizamabad, which recorded 61 cases, as of 26 April.