TDP to boycott Assembly session, lost hopes on maintaining strength in the Council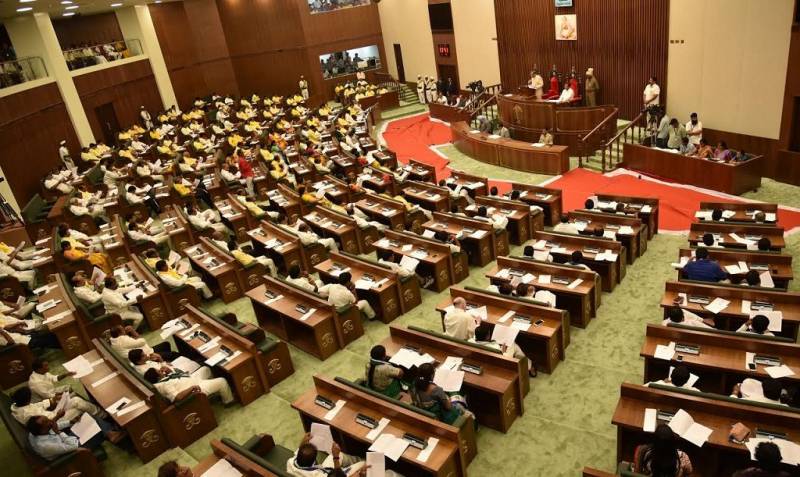 Amaravati: The opposition TDP has decided to boycott the Assembly session, scheduled on Monday, aimed at discussing on the dissolution of the Legislative Council. It may be recalled that the Council Chairman has sent the two bills-Decentralisation bill and CRDA repeal bill to the select committee, couple of days ago. In continuation to his decision, the treasury benches in the Assembly had a short discussion on the same subject on Friday, and the Chief Minister has stated that he would like to have an elaborated discussion on this subject, in order to prompt the people of the State about the facts.
In that backdrop, the TD legislator party (TDLP) which met at Vijayawada on Sunday, has decided to boycott the Assembly, and termed the ruling YSRCP's decision of convening the House to discuss on Council, as unconstitutional. Meanwhile, the Select committee has been formed with 9 members, out of which 5 are from TDP, one each from YSRCP, BJP and PDF. One more member will be nominated under Governor quota. It is decided that Ministers Buggana Rajendranath and Botsa Satyanarayana will act as the Chairmans for the select committees.
In the TDLP meeting, most of the seniors have suggested to the TDP National President and leader of opposition in the House N Chandrababu Naidu, that it is better to boycott the Assembly session, as the TDP won't be given any chance to discuss in the House. While, the ruling YSRCP has been making all its efforts to 'convince' the TDP MLCs, for the last couple of days, the TDP almost has arrived into a conclusion that they may be losing another 6 members, in case voting will be conducted in the Council. (So far, the Assembly secretary didn't mention anything about convening the session of the Council). If Council session also is convened, the TDP strength may come down to 23 from 31, as four MLCs have already indicated that they may not attend the session, following the health grounds. If such is the case, TDP has to face an embracement situation, as already Dokka Manikvaraprasad has offered his resignation for the position of MLC.
While these are the political developments, on the part of YSRCP and TDP, the Chairman of the Council Shareef and Speaker of the Assembly Tammineni Seetaram, have called on the Governor this evening, separately, to brief the developments going on in the Assembly and Council. Both of them have explained the developments in detail to the Governor Biswa Bhushan Harichandan.