Vijayawada: TDP's supremo and former chief minister Nara Chandrababu Naidu's visit to the Capital Amaravati has turned stormy and witnessed utter chaos on Thursday.
Some YSR activists threw footwear and pelted stones on Naidu's convoy and raised slogans "Go Back Naidu" and Naidu is a Traitor at Venkatapalem on Thursday.
While a group of farmers in the capital region opposed Naidu's visit to Amaravati by branding him as a traitor, larger number of farmers supported Naidu's visit. Police detained two people who hurled stones and slippers at former Naidu's convoy.
Naidu's tour to Amaravati aimed stalled construction works in the proposed capital region, accusing chief minister and YSR Congress Chief YS Jaganmohan Reddy of creating the obstruction.
To counter Naidu's visit to Venkatapalem area, the YSR Congress Party mobilized larger number of farmers and their party's activists, who staged protest against Naidu's visit with black flags and raised slogans.
On the ways to Amaravati, Naidu told media that the World Bank and a Singapore consortium have pulled out of Amaravati. The farmers in the Amaravati region sacrificed over 35,000 acres for the capital city. But, now YSRC government has stalled the Amaravati project, Naidu added.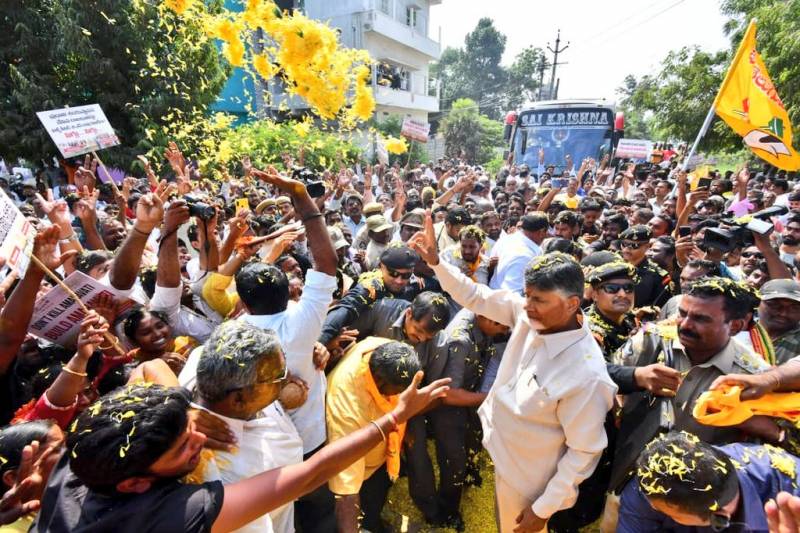 A group of farmers, who had surrendered their lands in 29 villages during the TDP's regime for the capital Amarvati, moved AP High Court against the YSRC government plans to shift the capital elsewhere, Naidu added.
We planned to develop Amaravati on the lines of Hyderabad city. But, YSRC government has killed Amaravati and destroyed Andhra Pradesh, Naidu pointed out. YS Jagan has no right to speak on Corruption since he is the most corrupted politician in the country and he failed to prove the alleged corruption of TDP, Naidu added.
The police have taken some YSRC activists into their custody for smooth visit of Naidu. However, the protest and counter protests erupted in parts of Amaravati region during Naidu visit.
Some Dalit farmers from Rayapudi, one of the villages under Amaravati region, demanded Naidu to apologise for discriminating against them with poor compensation offered to their assigned lands in the land pooling process for the capital Amaravati.
Under amid protest, Naidu visited some places of the capital region and he would interact with the farmers in the evening.