Hyderabad: Among the two dozen journalists, academicians, Dalit and human rights activist who are under surveillance, is a Telangana-based advocate Balla Ravindranath. Besides practising law at Telangana High Court, the 44-year-old is the General Secretary for the Committee for the release of political prisoners — an independent body that fights for the release of those arrested under political pressure.
In a conversation with NewsMeter, Balla Ravindranath reveals the cycle of events surrounding the WhatsApp spying. "On October 17, I received a message on WhatsApp from a Canadian-based research scholar, saying that my phone is under surveillance and there is a possible threat. However, I assumed that it was a fake message," said he, adding that the Canadian researcher didn't stop there. "He continued to inform me that my conversation on WhatsApp is under surveillance. He even took the effort to call me, but I didn't take his call nor returned it."
NewsMeter accessed the conversation between Balla Ravindranath and Canadian research scholar John Scott.
John Scott: Hello Ravi, I am a senior researcher at the Citizen Lab at the University of Toronto in Canada (The lab works on tracking internet threat against civil society). The Citizen Lab has been investigating a case of alleged spying; if you follow the link, I sent in WhatsApp, you could confirm this.
Balla Ravindranath: I am from India.
John Scott: There is a possibility that your phone number was affected and we want to make sure you know how to keep your mobile secure. I'm lightly familiar with your work on our research into an ongoing case and this message concern a specific digital risk that we believe you face.
Initially, Balla did not take heed to John Scott's alert until he received an official message from WhatsApp. "On October 29, I received a message from WhatsApp concerning the issue. I immediately rang John Scott and he re-confirmed it. Most of the people facing this threat are activists who have put up a fight against the government. This is a deliberate effort to curtail the freedom of activists, and the government cannot feign ignorance," he added.
Conversation between Canadian researcher John Scott and Telangana based advocate Balla Rabindranath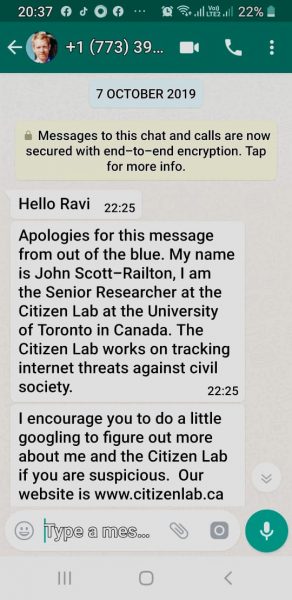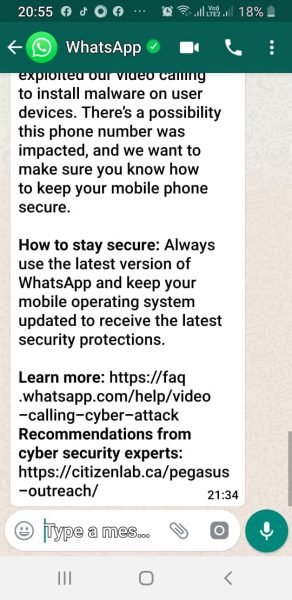 " This is a serious issue which exposes the conspiracy of the governments transcending states and central governments to collaborate with an Israeli group on a global scale to stomp out dissident voices of the citizens and silence the defenders. A news report has claimed that prior to notifying the victims, WhatsApp checked the target list against existing law enforcement requests for information (which governments can request WhatsApp through an online portal) relating to criminal investigations but found no overlap.
He further adds," I am a human rights lawyer and activist, in 2017 a state government had filed a false case against me and several other activists when we were on our way on a fact finding mission to inquire into atrocities committed by state on adivasis in Chhattisgarh. We were put in jail for six months but ultimately the court acquitted us"
It is to note that , not to long ago Telangana government had named several leaders of mass organizations, activists and lawyers . The list featured Balla Ravindranath and his wife Savithri, who is also a lawyer . An FIR claiming that activist ( those named) have links with an outlawed group.
In a coverup the Information and broadcasting Minister has ordered a report from Facebook by November 4. " This is ironic, since the NSO group has said that it sells such spywares exclusively to the governments and intelligence agencies . We therefore demand that a investigation into this matter should be made under supervision of a sitting Supreme Court judge and the central and state governments should immediately stop hounding of lawyers, activists, journalists and human rights defenders' Balla Ravindranath said.
On Thursday, as many as 17 people, mostly activists, were confirmed as being spied by an Israel software program called Pegasus. The affected were targeted using Facebook's text messaging platform, WhatsApp. Hours after the news broke out, a company spokesperson confirmed that the company was aware of those targeted and have personally contacted all those who have been under surveillance.
A summary of WhatsApp hacking scandal
An Israeli cyberweapon's dealer, NSO Group, is reported to have targeted Indian journalists and activists by hacking into their WhatsApp using spyware they created, called Pegasus. It is designed to facilitate governments to spy on their citizens, for a hefty fee.
The incident was revealed in India when Toronto-based Citizen Lab contacted Indian journalists and activists a few months back and informed them that the NSO Group was hacking their WhatsApp.
What is worth noting is that this spying scandal also intertwines with the Aadhar project. In 2017, GreatGameIndia reported how CIA spies were able to access the Aadhar database using custom-made spyware from Crossmatch, which was contracted by UIDAI.
At the time, Crossmatch was owned by Francisco Partners, which is also owned NSO Group. Crossmatch works closely with the American security establishment. Crossmatch created Expresslane tool for the CIA to exfiltrate data in the background while the original programme is splashed on the screen. This software was installed at Aadhar enrolment centres to capture biometric data.
Lawyers Balla Ravindranath, Chikkudu Prabhakar, D. Prabhakar, Durga Prasad, an independent journalist + 3 research scholars were arrested.

— Amnesty India (@AIIndia) December 28, 2016
A thorough investigation needs to be carried out in all Francisco Partners operations in India and all its subsidiaries along with the NSO Group.