Hyderabad: As per a report released by the National Statistical Office (NSO), Telangana has reported a literacy rate of 72.8 per cent, which is significantly below the national average of 77 per cent. Andhra Pradesh has reported a literacy rate of 66.4 per cent and has ranked the lowest amongst all states.
The five states with the lowest literacy rate include Uttar Pradesh (73.0), Telangana (72.8), Bihar (70.9), Rajasthan (69.7), and Andhra Pradesh (66.4 per cent).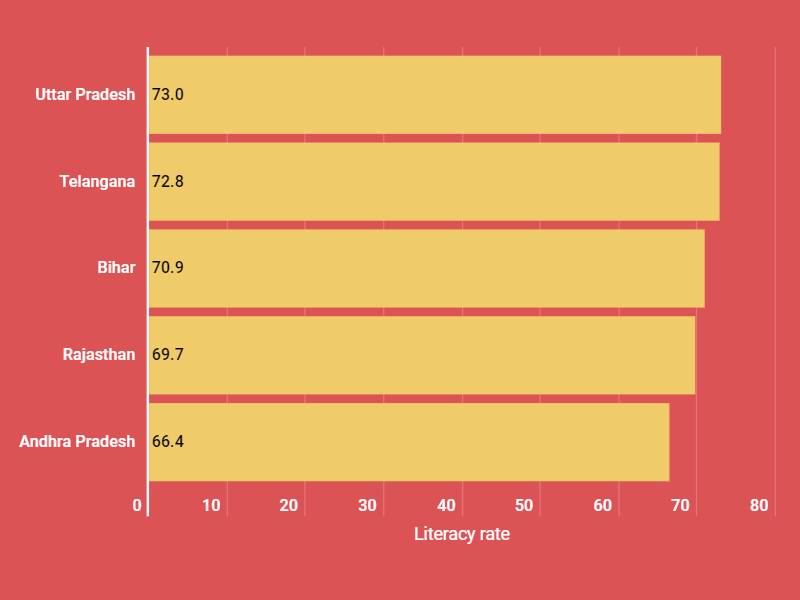 States with the lowest literacy rates in India/ Source: NSO
The survey reports the literacy rate in ages above seven.
Rajya Sabha MP and educationist K Keshava Rao said that despite the ranking, he sees hope in the number. "Historically, Telangana has been a backward state in terms of education. We have been trying our best to push more children into education, and to a great level, our policies have helped," he said.
As per the survey conducted by NSO, Telangana last year reported a literacy rate of 62.1 per cent, while India's literacy rate was 73.5 per cent. The approximately 10 per cent gap with the national average witnessed in last year's report, improved this year. India reported a national literacy rate of 77 per cent this year, and Telangana was 5 per cent behind.
Kerala topped the list with a 96.2 per cent literacy rate, and Delhi ranked second with 88.7 per cent.
The report signifies that Andhra has ranked below the state of Bihar, which reported a literacy rate of 70.9 per cent.
Five states with the highest literacy rate include Kerala, Delhi, Uttarakhand (87.6), Himachal Pradesh (86.6), and Assam (85.9 per cent).
TS also reported a significant gap in male and female literacy rate. As per NSO, 80.5 per cent of males surveyed were classified as literate, in comparison to 65.1 per cent of females. A gender gap of 15.4 points was observed in the state.
As for Andhra Pradesh, a gender gap of 13.9 per cent was observed. 73.4 per cent of the surveyed males were classified as literate, in comparison to 59.5 per cent.