Warangal: A micro sculptor, Mattewada Ajay Kumar, of Warangal carved a miniature wax figurine of US President Donald Trump inside the eye of a needle to welcome Mr Trump to India. A miniature US flag hangs above the President. One requires a microscope to look at the micro sculpture.
The Trump figurine is dressed in an electric blue suit with a red tie over a white shirt. He is wearing black shoes. One can make out the American President's trademark features like his hairstyle and his smile. All the red and white stripes can be distinctly seen on the American flag along with the stars.
"It is an honor for the nation to welcome the President of the United States of America. To do my bit to welcome him, I decided to carve his figurine. I also added the US national flag inside the needle. Mr Trump's figurine is 1.25mm tall and 0.32 mm wide and the flag is 0.94 mm in length and 0.64 mm wide. It took four days and 13 hours to complete this work," said Mr Ajay Kumar.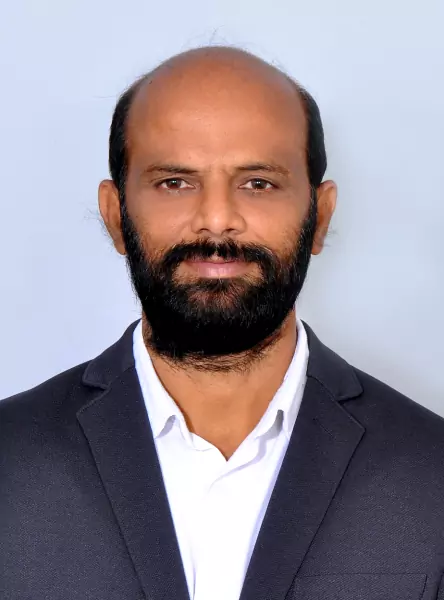 Mattewada Ajay Kumar
Mr Ajay Kumar has received national and international recognition for his works. His work representing the Dandi March found a place as a permanent exhibit at the National Salt Satyagraha Memorial in Dandi, Gujarat. He participated in the 2019 Art in a Capsule competition conducted by the ACG world group and bagged the first prize and the $5,000 prize money. About 80 micro artists from India, America, Latin America, and European countries took part in the competition.
The 45-year-old comes from a family of goldsmiths and has been engaged in making micro sculptures for the past 30 years. His father, late Mattewada Venkata Chary, was a freedom fighter and a famous goldsmith. His earlier works, like the functional miniature lock and key, an electric fan, scissors, and violin, all made in gold, earned him a place in the Limca Book of Records five times and helped him set a world record. He stands alongside two noted micro artists, Willard Wigan of England and Yuri Duelin of Russia, who are known for their micro sculptures.