Hyderabad: Several leaders from Christian Community, along with Telangana Christian JAC, held a protest in Secunderabad on Sunday against alleged remarks made by nominated MLA Elvis Stephenson hurting the religious sentiments of the Christian Community.
About 100 members gathered inside the St. Mary's Church in Secunderabad and shouted slogans, protested and burnt the effigy of the MLA. Telangana Christian JAC had planned to start a rally as part of their protest from the church to Keys High School but failed to get permission.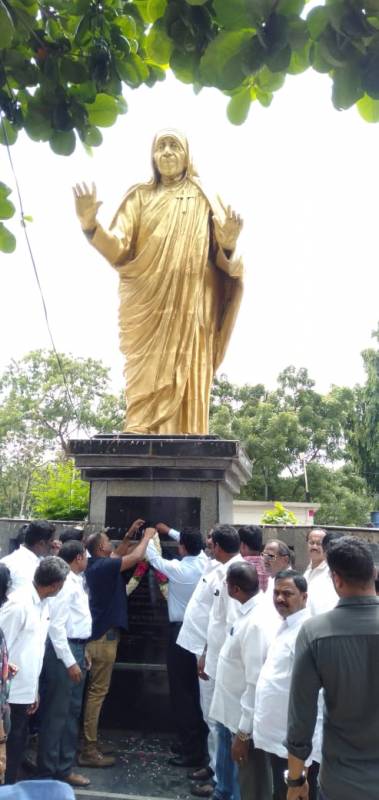 The JAC also plans to give a memorandum to Telangana CM K Chandrasekhar Rao, Assembly Speaker and Minister for Minorities on Monday against the MLA. Protestors also plan to lodge a criminal complaint against Elvis with the Saifabad police station for his derogatory remarks. Telangana Christian JAC demanded to sack the MLA stating that he is not their representative and urged the Chief Minister and Assembly speaker to expunge his speech from Assembly records.
Gopu Bala Reddy, President of the Catholic Reddy Association, said, "Elvis Stephenson, had recently made fallacious statements in the State Assembly on Christian community, degrading and attacking all churches and Christian Faith. He represents just 25 Anglo Indian families in the city. He is not our representative, nor was he elected by us. He has to be sacked. He must tender the Christian community an unconditional apology, he said, adding, "Instead of helping the community by getting Government help, he is damaging the religion and our religious sentiments. He is the most inefficient MLA."
In the memorandum to be submitted to the Chief Minister, JAC mentioned that the MLA also made many other false allegations about the community. The MLA said that the Catholic Educational Institutions were not giving seats and concession to poor Christians, which is incorrect according to the community. They have claimed that their Christian institutions help poor Christians first and only then will they assist others. The Christian community claimed that they are giving concessions to all eligible Christians, and they strictly follow all rules and regulations of the government.
Roydin Roach appealed to KCR and minister KT Rama Rao to sack the MLA. "Catholic schools are private, and even then they have given fee concessions to poor Christian students to the extent of Rs 1.5 crore," he said.