Hderabad: Telangana Chief Minister K Chandrasekar Rao on 27 March said 10 new cases of Coronavirus has been detected in the state. However, the Telangana health department is yet to confirm it. According to the last health bulletin released by the ministry on 26 March, the state had a total of 44 active Covid-19 cases. However, by 27 March according to the Chief Minister, the number jumped upto 59. Meanwhile, no details of the latest positive cases have been released so far.
This was the last bulletin released by the Telangana government on March 26.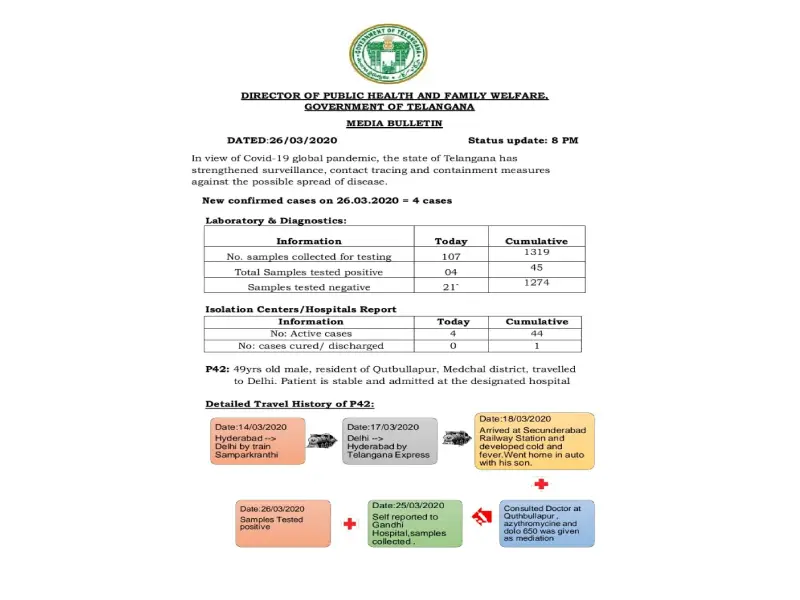 While states like Andhra, Kerala and Karnataka had detailed medical bulletin with flow-charts visualising contact tracing of infected patients, there is no communication from the part of Telangana government.
Additionally, there are only four flowcharts released so far in Telangana visualising contact tracing of an infected patient.
According to sources, the health department has been asked to report to the Chief Minister daily on corona case updates. Media bulletins can be released only after his approval. However, the CMO has not been clearing bulletins since yesterday, sources said.
An official associated with the health department, on the condition of anonymity, told NewsMeter, "We have official orders from the Telangana government not to disclose information on Corona virus cases to the media, which is why most officials are afraid to talk. Furthermore, authorities are taking the situation very lightly in Telangana."
The official further added that this will only lead to more backlash in the form of misinformation, especially on social media. "Lack of information will ultimately lead to a backlash. Now itself, people are running away from isolation wards. They are not self-reporting as they should. This is not the case in other states where the government is more transparent," he said.
With a sudden jump in the number of positive Covid-19 cases in Telangana, the state government has come up with more measures to control the pandemic.
Ten thousand beds have been prepared for the treatment of Coronavirus patients. Among this, 7000 beds belong to government medical colleges. The remaining 3000 beds belong to private medical colleges. In addition 700 ICU and 190 ventilator beds are ready to treat critical Covid19 patients.
According to the Health department of Telangana, all 58 COVID-19 patients are currently in stable condition.