Telangana governor Tamilisai Soundararajan praises HSS for developing Robotic Sanitizer Vehicle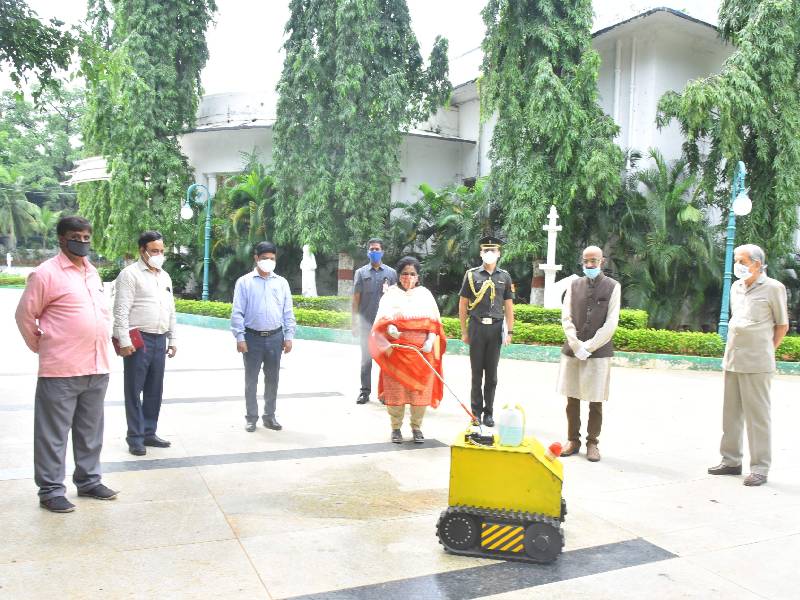 Hyderabad: Telangana governor Tamilisai Soundararajan has appreciated the efforts of Hyderabad Science Society (HSS) for designing and developing a Robotic Sanitizer Vehicle.
The remote-controlled vehicle can be used for sanitizing roads, office corridors, and interiors of the building.
This robot functions with minimum human contact. It is capable of moving on normal roads and rough terrains. It has a battery that when fully charged can be operated for more than two hours. The vehicle can turn about a 90-degree angle for its spray mechanism. It also has a facility to store sanitizing liquid.
Hyderabad Science Society representatives Sanjar Ali Khan and Vara Prasad gave a demonstration of the Robotic Sanitizer Vehicle to the Governor at Raj Bhavan.
The governor said new ideas and innovations should come up to overcome the COVID pandemic. She noted that research and innovation is the need of the hour.
Located at Mehdipatnam, Hyderabad Science Society was established in 1948 by a group of students of Nizam's College to promote Science and Technology.