Hyderabad: Despite the Telangana High Court's directive to the state government asking it to test dead bodies for COVID-19, the state has not been doing the same since April 2020, sources have said.
Two documents showed that the Telangana health medical and family welfare department had instructed all medical colleges and hospitals "not to collect samples from dead bodies for further COVID-19 testing". The order, dated 20 April, further stated that the state had given these instructions earlier but hospitals had failed to implement them.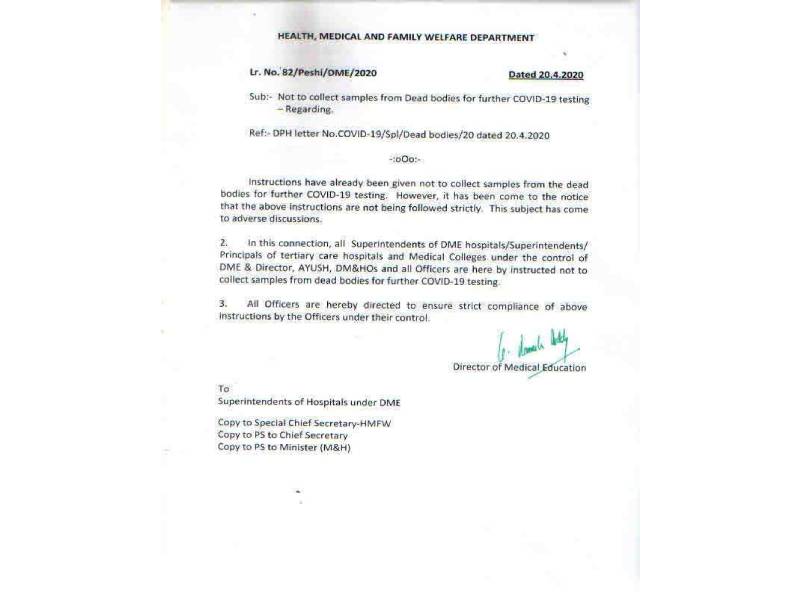 "Instructions have been already given not to collect samples from the dead bodies for further COVID-19 testing. However, it has come to the notice that the above instructions are not being followed strictly," the order read.
Another circular from the Osmania General Hospital (OGH) superintendent's office instructed its professors to follow this directive. It said, "All the professors and HODs are requested not to collect COVID-19 testing swabs from dead bodies and the swabs should not be taken from the general wards."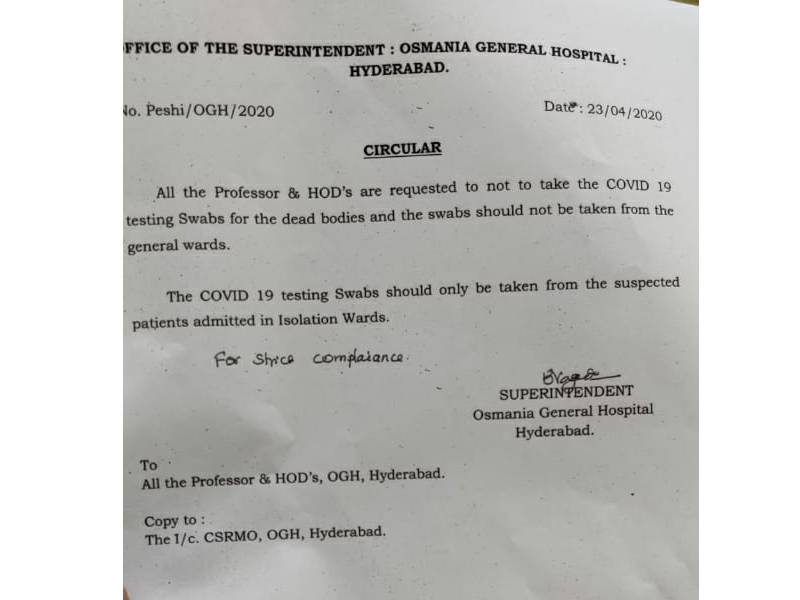 A doctor from OGH explained,"This means that they stopped testing the patients from general wards, who are later taken for surgery. Usually, swabs are taken from the surgical wards on a routine basis, so that the surgeons are informed if patient has COVID-19 before the operation, but that had stopped with this order."
Doctors allege that inadequate testing was one of the reasons why the number of doctors and health staff who tested COVID positive has spiked drastically in the past few days. "There could be patients in the general ward with no symptoms, but who acted as carriers of the disease. Initially, only those with respiratory symptoms were sent to isolation wards and tested. Now, when the transmission has increased, they have shot up the testing. At present, if the treating physician has a doubt on a patient's symptoms, they can be sent for the COVID-19 test" the doctor added.
The Telangana High court, on June 10, said that the state government was "absolutely silent" on whether tests for COVID-19 are being conducted on dead bodies. The state health minister, Etela Rajender, had, meanwhile, said that testing dead bodies is "unscientific" and that the state does not intend to conduct them. "We are strictly following the ICMR guidelines and they do not state that COVID-19 tests should be conducted on dead bodies," the health minister added.
The High Court had also directed the state government to carry out random testing and community testing. However, the state is yet to start conducting these tests. "The state government has placed an order for 25,000 kits and until the medical department receives these kits we cannot start random testing and community testing," the state had said.