Hyderabad: Telangana High Court's three new judges Tadakamalla Vinod Kumar, Annireddy Abhishek Reddy and Kunuru Laxman Goud took oath at 9:30 am on Monday. Telangana HC Chief Justice Raghavendra Singh Chauhan administered the oath.
The government of India has appointed three new judges to the Telangana state High Court. An order was issued on Friday.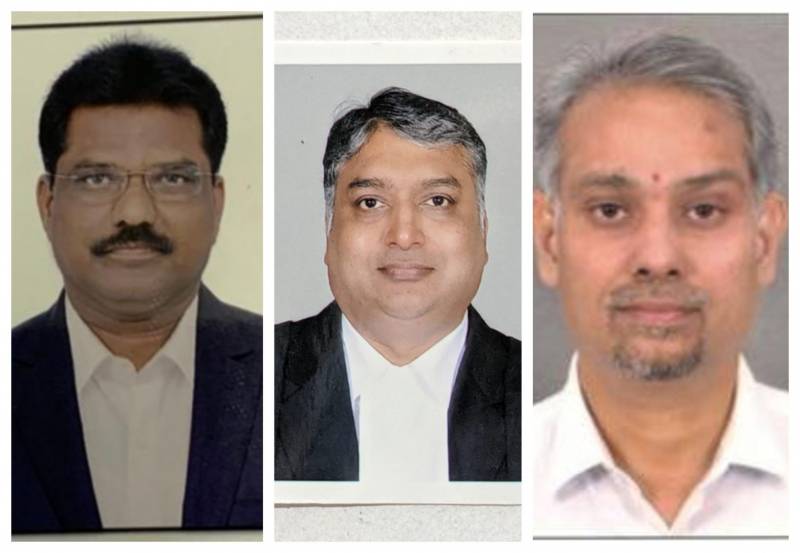 Annireddy Abhishek Reddy is a senior advocate in the combined HC of Telangana and Andhra Pradesh from 1990 till date. He handled several cases on behalf of the Telangana Admission and Fee Regulatory Committee (TAFRC), Engineering, Agriculture and Medical Common Entrance Test (Eamcet), Greater Hyderabad Municipal Corporation (GHMC), and several other government sectors.
Abhishek Reddy after completing his Bachelor's of Law (LLB) from Osmania University, went on to complete his Masters of Law from the US. He practised under his father A Pulla Reddy, 91, a senior advocate with over 65 years' experience.
His mother A. Shahsirekha Reddy is retired Sanskrit lecturer from the Kasturba Gandhi College. Abhishek Reddy has held the position of government pleader cum public prosecutor in the special court under the Andhra Pradesh Land Grabbing (P) Act during 2007 and 2009. He has also served as government pleader for Higher Education and Technical Education in Andhra Pradesh HC from 2007 to 2008.