Hyderabad: According to the data released by the Telangana forest department, the state has a forest cover of 24.1 per cent, less than the minimum forest cover required under the National Forest Policy, which is 33 per cent.
The state additional principal chief conservator of forests, Mohan Chandra Pargaien, released the data on 22 July. "The area covered by reserved forests, not including outside forests, is 24.1 per cent, according to our latest survey," he told NewsMeter.
Other officials of the department said a rough percentage of outside forests in the state would be around four-five per cent which includes roadside plants, institutional forests, and more. This will bring the forest cover in the state to approximately 29 per cent. "If we include the outside forests that are part of universities, such as Osmania University and Hyderabad Central University, then the figures might go up marginally," Mr. Pargaien added.
District-wise, Karimnagar, Jogulamba Gadwal, and Hyderabad have the lowest reserved-forest cover of 0.2 per cent, 0.3 per cent, and 0.8 per cent, respectively. Regions with forest cover higher than the minimum requirement include Mulu, Bhadradri Kothagudam, and Komrambheem Asifabad with 71.9 per cent, 61 per cent, and 54.4 per cent, respectively.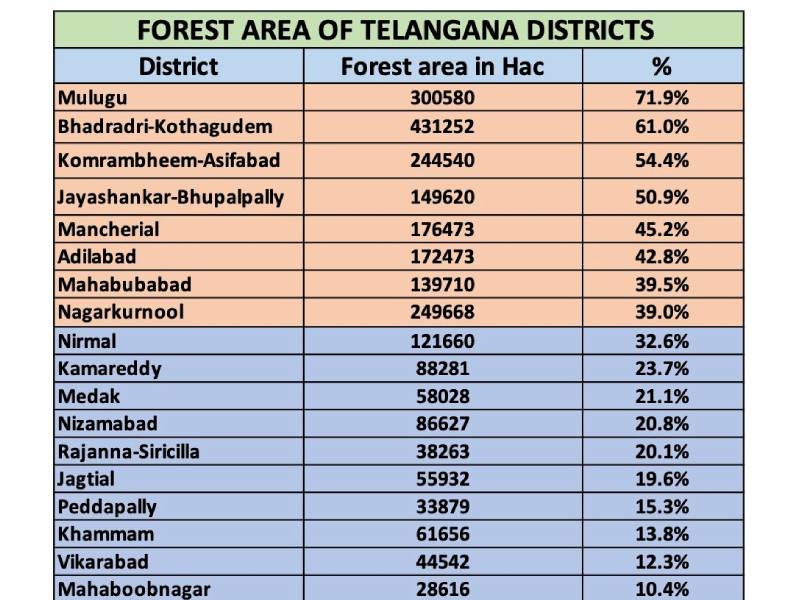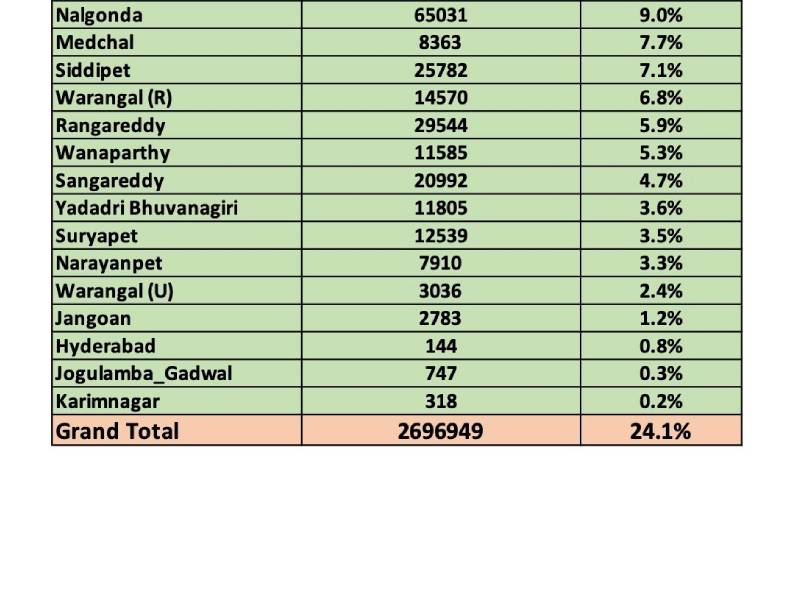 Source: Mohan Chandra Pargaien
Mr. Pargaien further said, "We started the Haritha Haram programme in 2015 with an intention to increase Telangana's forest cover from 24 per cent to 33 per cent, and we are doing well."
Forest officials said that since most of the plantation under Haritha Haram drive has been done in outside forest areas, an updated survey of the same will have to be conducted to figure out the increase in Telangana's green cover. They also added that there has been a definite improvement and with nearly 29 per cent forest cover Telangana is inching closer to its goal.