Hyderabad: Abdul Ahmed, 34, from Mahbubnagar though it was the end of his life when Hyderabad Diagnostic Centre, authorized by the ministry of health, declared him HIV positive. Ahmed, who was all prepared to go to Saudi for employment, as part of the procedure, had gone to the centre for a medical certificate. Having been declared unfit, the man headed back to Mahbubnagar and underwent tests at two different centres where both declared him HIV negative.
Narrating his ordeal, Ahmed, this news correspondent, " I first visited the Hyderabad Diagnostic centre in February 2019 for a full-body check-up. Medical clearance is mandatory for every aspiring migrant, especially those heading to Saudi Arabia for employment. The first report issued by HDA diagnosed me of "viral infection'. They had asked me to come 20 days following my first report'.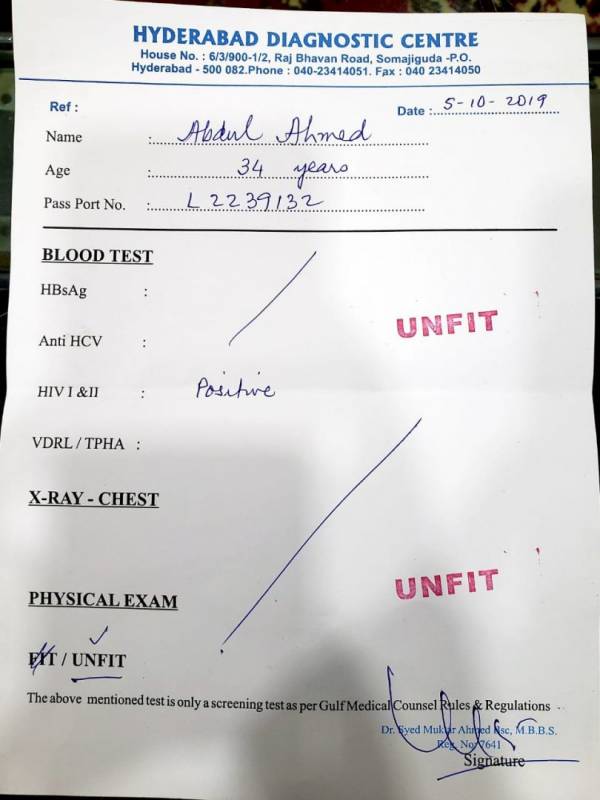 Abdul Ahmed did not return to the diagnostic centre as one of his relatives had passed away. While on the 25th of September, he underwent another fresh medical check-up, to his and everyone's surprise, the second report diagnosed him of 'Viral Infection'. "Months had passed since the first report was issued; how can I continue to suffer from Viral infection. I was again asked to come back on the 5th of October for the second round of testing. The final report diagnosed me at HIV positive".
Ahmed suffered an irreversible damage psychological when he was told that his reports revealed he was HIV positive. " With a heavy heart, I went back to Mahbub Nagar and explained to my doctor. He advised me to undergo the same test at regional medical centres. The first test conducted by a private centre contradicted the HAD's reports, it proved negative. I still went ahead and consulted another diagnostic centre, that reports too revealed HIV negative.'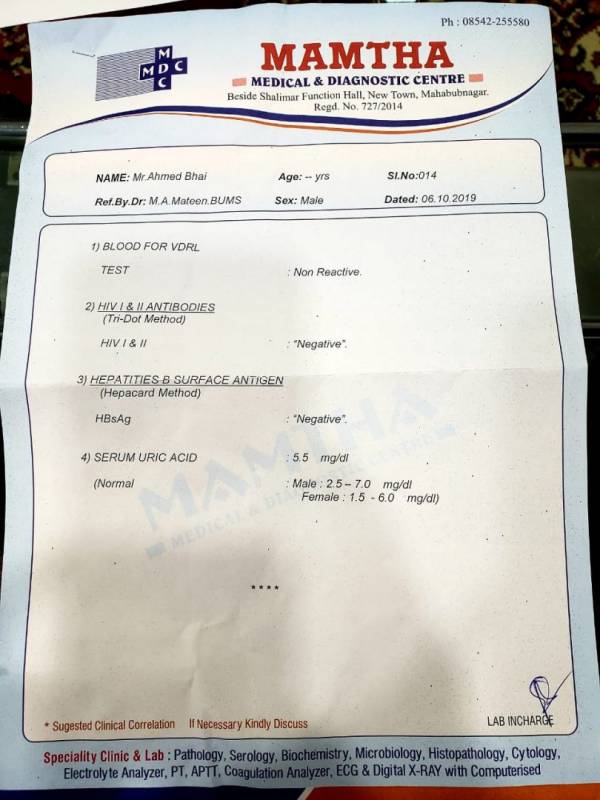 The man on every attempt had paid Rs 1000 online to procure the appointment slip and another Rs 4,400 for the test. A sum of Rs 5,400 he spent, each time he underwent the test.
Ahmed told Newmeter that he was asked by Hyderabad diagnostic centre doctors not to reveal the discrepancies in the findings. He also shared that, HDA doctors threatened him that he would be blacklisted and barred from entering Saudi Arabia if he brought to surface the reports.
" On Wednesday morning, I received a call from a gentleman claiming to be a high authority with Hyderabad diagnostic centre. He sympathized and asked me to stay clam. He also offered me a free medical check-up, if I needed. But, I have decided to process legally" Ahmed adds.
Several calls made to the landline of HDA proved futile.