Hyderabad: Six students pursuing Sociology at Hyderabad Central University were detained by Gachibowli police for reportedly screening the documentary 'Ram Ke Naam' (in the name of Lord Ram), which is based on the demolition of Babri Masjid in 1992.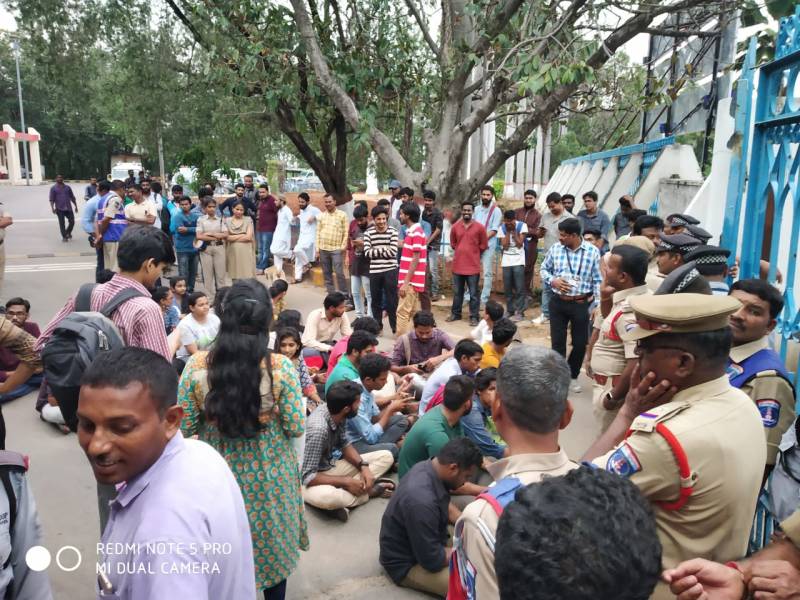 The cops confiscated a laptop besides pulling down the documentary screen organised in the campus on Tuesday. The students from various departments broke out in a protest as they claimed that screening was part of their academic curriculum and demanded the release of the six students detained.
In a statement issued by an All India Students Association (AISA), it stated, "We had scheduled a screening of the movie Raam Ke Naam on August 20 in the new seminar hall- SSB building. The permission was denied due to apparent miscommunication between the dean and his office and the decision was communicated to the rest half an hour before the scheduled time. Hence one of the students in his capacity sought permission from one of the department to arrange a screening in one of the classrooms."
The student shared that before the screening could begin cops from the local station intervened and asked them to cancel the screening. "We (students) agreed to cancel the program, however despite this, a laptop was confiscated and six students Nikhil, Sonal, Vikas Kumar, Vikas Raj, Babajan and Arif were taken along," the statement said.
An eyewitness stated that a scuffle between the students and police followed the detention. The protest at the campus gate continued till late hours Tuesday.
Two professors from the University reportedly approached the Gachibowli police authorities in regard to release the students.
When asked Mr R Srinivas, Inspector Gachibowli police station, he denied any detention or arrest of six students. "No one has been taken into custody," the officer said despite pictures of students being taken in the police vehicle was over social media. Meanwhile, police bundobust continued inside the campus.
Update: The students have been released.