Hyderabad : Vanasthalipuram Special Operations Team of Rachakonda Commissionerate on Wednesday, nabbed a notorious interstate gang that is involved in ATM theft cases. The gang consisting of four members also known as the Ramjinagar gang was arrested on Wednesday by the Special Operations Team LB Nagar Zone and CCS team who were acting on a tip-off concerning the gang's movements. The gang had stolen a cash brought to upload in ATM Rs. 59 Lakhs and is also wanted in several of cases across Tamil Nadu, Telangana and Andhra Pradesh.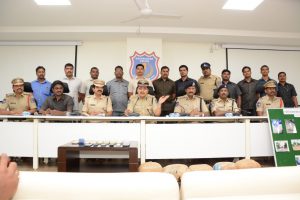 The Special Operations Team of Rachakonda Commissionerate that nabbed the gang.
The Case
In May 2019, Shaik Mohammed Thaha, working as custodian in writer safe guard private limited complained to the Police stating that he along with second custodian, driver and Gunmen started from their office with a cash box containing Rs.58.9 lakhs to deposit the amount in the ATM by parking vehicle on roadside.
In the meantime, some unknown persons threw some amount near their vehicle and diverted the gunmen and fled away with the cash box. The special Operation Team of LB Nagar Zone was assigned with the task to develop information about the gang.
Modus Operandi of the Gang
According to Rachakonda Commisioner of police, Mahesh Muralidhar Bhagwat, Ramjinagar gang consists of 10 to 14 members. He said, The gang adopted a unique modus operandi. After identifying a vehicle parked along a roadside or outside of the Banks and ATMs. The gang would ensure that the driver was seated in the vehicle that they planned to target. Then, a gang member would strew around five to ten Rs. 500, 200, 100 notes near the vehicle. Another gang member would then tell the driver that his money had fallen on road. The remaining members will be watching the moment of the public and when the driver would get down of the vehicle to check, the other gang members would decamp with valuables kept in the vehicle.
Seized Property
Rs. 4 lakh of net cash , A Tata Indica car, six Mobile phones , six kilos of Dry Ganja were seized from the arrested gang.The entire worth of the seized properties is slated at Rs. 6. 8 lakh.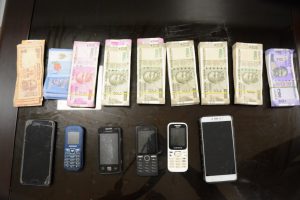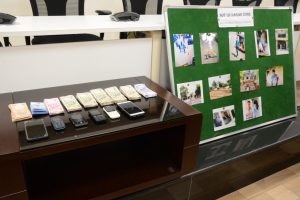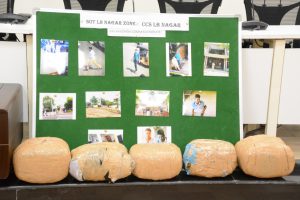 Identity of Arrested Gang
The arrested have been identified as follows : Partivan Deepak alias Deepu, Thangaraj Sathyaraj, Yoga raj, Suresh all natives of Tiruchchirappalli, Tamil Nadu.
Deepu's other associates are Mukesh, Saravanan alias Beedi Saravanan, Arumugam, Thomodharan, Kumaran, Kumar, Vadivelu, Raju, Gokul, Adithya are absconding. Efforts are in progress to nab the absconding gang members.