Hyderabad: On October 22, a charred body of an abducted nine-year-old boy was recovered in Mahabubabad district.
Deekshith Reddy was kidnapped on October 18. Mandha Sagar, a neighbor of the family who works as a mechanic, is suspected to have abducted the boy for ransom. Deekshith's father works at a regional news channel.
Earlier on September 25, a 28-year-old interior designer was allegedly murdered after abduction by his in-laws. Chintha Yoga Hemanth Kumar's body was found on the outskirts of the city. The incident triggered a national outrage.
On September 14, Rachakonda police arrested a corporator from Boduppal Municipal Corporation at Chaitanyapuri in connection with a kidnapping case.
Thotakura Ajay Yadav, along with his friends Manginapally Sai Kumar and Kumbam Chandra Reddy were accused of kidnapping a youngster over a financial dispute.
These three cases are just the tip of the iceberg. According to National Crime Report Bureau (NCRB), around 2,127 cases of kidnapping and abduction have been reported in Telangana in 2019. Of the total kidnappings, 1616 were women and 549 were men.
Detailed analysis of the data reveals that on an average six kidnappings are reported every day in the state.
The cases of kidnapping and abduction have increased by 15 percent in the state compared to 2018. In 2018, around 1,810 kidnapping and abduction cases were reported from the state.
In most of the kidnapping and abduction cases, children below 18 years of age are the victims. Of the total abductions, 1247 were children below 18 years of age in 2018. Of the total children, 1,030 were female. Around 672 kidnapped children were in the age group of 16 to 18 years.
Around 459 abducted people were untraceable till December 31, 2019. Of whom 357 are female and 102 are male.
Around 519 persons were kidnapped in Hyderabad last year.
Across India, 98,888 kidnapping and abduction cases have been reported in 2019, which works out 271 per day. Of the total abducted persons, 80,856 are women.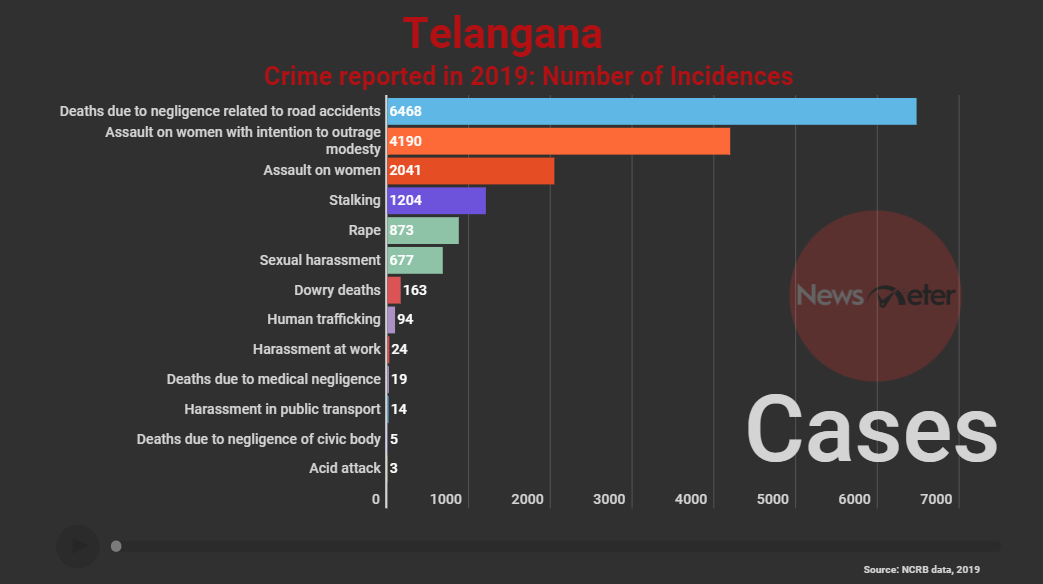 Overall Crime rate in India:
A total of 51,56,172 cognizable crimes comprising 32,25,701 Indian Penal Code (IPC) crimes and 19,30,471 Special & Local Laws (SLL) crimes were registered in 2019. It shows an increase of 1.6% in registration of cases over 2018 (50,74,635 cases).
During 2019, registration of cases under IPC has increased by 3.0% whereas SLL crimes have declined marginally by 0.6% over 2018. The percentage share of IPC was 62.6% while the percentage share of SLL cases was 37.4% of total cognizable crimes during 2019.